Event 46 - $2,500 Omaha Hi/Lo 8-or-better
Day: 3
Event 46 - $2,500 Omaha Hi/Lo 8-or-better
Day 3 Completed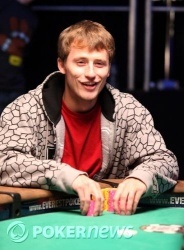 Whew! This was a marathon of a day for Derek Raymond and Mark Tenner. We can honestly say that both players deserved the win in this tournament. Each played masterfully and with guts. At the end, however, it was Raymond who hit the hands he needed to hit when he needed to hit them.

Raymond started the day in 9th chip position of the 23 players remaining. He steadily and quietly climbed the counts as player after player was eliminated. Coming into the final table, Raymond was positioned well for a deep run. He was fourth in chips and in no danger of an immediate bust.

In the end, it was stamina and resolve that brought Raymond the bracelet -- and perhaps a timely run of cards. No one can deny that limits were high at the end. This thing could easily have gone the other way. But it didn't, and Derek Raymond is our deserving champion.

Congratulations, Derek!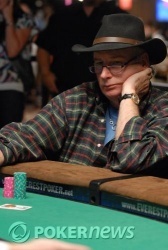 Raymond bet out on a
flop, and Tenner folded. Tenner was looking a bit shorter.

Then Raymond check-raised on a
flop and Tenner called, but he folded when Raymond bet out on the
turn. This left Tenner on just 205,000. Yikes...

And so, Tenner got it all in from the button. And Raymond called. Just like that. Ding!

Tenner:

Raymond:


Board:


All the chips were silently shipped over to Raymond. Ladies and gentlemen, we have a winner!

Said Nolan Dalla, shaking the hand of our new bracelet winner, "Congratulations, champ, that was easy."

Time for bed.
Raymond had been assiduously whittling away at Tenner, forcing him to fold on various assorted flops and turns, and finally we saw Tenner all in preflop following a raising war.

Tenner:

Raymond:


Board:


Chop, chop.
Both players checked the
flop, and then Raymond proceeded to bet out on both the
turn and the
river.

Raymond turned over
, and since Tenner just mucked, Raymond took the pot.
Now it's Tenner's turn to make a flush! He called a bet from Raymond on the turn of the
board, and both players checked the
river.

"Straight," announced Raymond.

"Flush," announced Tenner for the trump. He turned over
to prove it, and took the pot.
Good lord. Our blinds are up, as you may have noticed, and you'd think our old friend Variance would maybe kick in around now. Nevertheless, here we are with two players on almost identical stacks, at 3am.

Tenner check-called a bet from Raymond on the river of the
board, but then mucked to Raymond's
flush.
Level: 30
Blinds: 50,000/100,000
Ante: 0
Derek Raymond's been trying to get his chips in, but those pots just keep ending up chopped.

Most recently he called a preflop raise from Tenner and then bet out on every street of the
board. Tenner called him all the way down, and duly they chopped.

Raymond:

Tenner:
Derek Raymond may be in a spot of bother -- he's down to 575,000.