Event Info
| | |
| --- | --- |
| Buy-in | $10,000 |
| Prize Pool | $949,400 |
| Players | 101 |
Level Info
| | |
| --- | --- |
| Level | 26 |
| Blinds | 20,000 / 40,000 |
| Ante | 10,000 |
Event #19: $10,000 2-7 Draw Lowball Championship
Day 3 Completed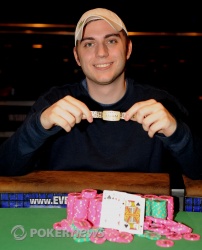 David Baker is presently posing for his winner's picture. The grin under his white cap is a mile wide. And for good reason. He has bested one of the most formidable fields in WSOP history to take down Event No. 19, the $10,000 Deuce-to-Seven Draw Lowball Championship (No-Limit).
"You better smile," just advised a friend of Baker's from the side of the stage. "That's going on a banner out in the hall." His friend was alluding to the possibility that Baker could win the 2010 WSOP Player of the Year and thus have his visage hung on a large banner along with other POYs.
Indeed, Baker is definitely in serious contention in the WSOP POY race, having finished sixth in an event with another especially tough field, the $50K Player's Championship (Event No. 2) earlier in the Series.
It was a tough final table, culminating a tough three days of play. Baker held the chip lead at the start of play today, and remained on top for most of the afternoon and evening. Most impressively, Baker knocked out five of his six opponents -- as well as Daniel Negreanu in eighth -- to take the title.
Congratulations to David Baker, Event No. 19 champion!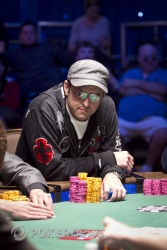 David Baker raised all in from the button, and Eric Cloutier thought a bit before making the call with his remaining 560,000. Fans in attendance all took a step forward toward the stage in unison to get a closer look. Cloutier drew two cards and Baker one.
Cloutier tabled
, and the first card he turned over was a
, giving him a pair. The fifth was a
.
Baker spread out
, and all he needed was to avoid pairing his ten, nine, or eight to take it down. He squeezed, then quickly turned over a
. Baker had won!
Level:

26
Blinds:

20,000/40,000
Ante:

10,000
We've seen a couple more all-in-no-call hands during the last few minutes. They've reached the end of Level 25, and there's going to be a short pause for a chip color-up.
Here are the current counts:
David Baker -- 2,435,000
Eric Cloutier -- 595,000
Feeling as though we'll likely see a finish or double-up here relatively soon. The last two hands saw David Baker push all in before the draw and Eric Cloutier fold, then Cloutier push all in and Baker fold.
Baker continues to enjoy about a 3-to-1 chip lead.
After a few raise-and-fold hands, Eric Cloutier raised to 110,000 from the small blind/button, and David Baker called. Both drew one, and both checked.
Baker showed
, and Cloutier
, grabbing a few chips.
David Baker -- 2,193,000
Eric Cloutier -- 837,000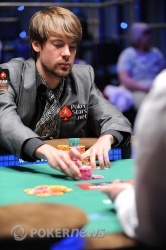 On the next hand after being crippled by Eric Cloutier, George Danzer went all in dark from the button with his last 37,000, Cloutier folded, and Baker called the tiny raise from the big blind. Baker drew two cards, and Danzer one.
Baker had
, picked up a
, but then also drew a
for a pair of treys. Danzer had
, but unfortunately for him drew a
to make a higher pair, and he's out.
We're heads up!