Event #27: $1,500 Seven Card Stud Hi-Low-8 or Better
Day: 3
Event #27: $1,500 Seven Card Stud Hi-Low-8 or Better
Day 3 Completed
As the winners' interviews and whatnot get underway, David Warga will be no stranger to this sort of thing - he already has a bracelet, after winning the Casino Employees' Event in 2002.
Warga, who is a professional poker player when he's not developing real estate, has now defeated 643 players to win his first bracelet in an open event. This final table was one of the most star-studded and - despite the reputation of stud eight - fast-paced we've seen. We went from 23 players to just one in around 11 hours, and there was never a dull moment.
Many congratulations to Warga and all the finalists. From the stud eight, it's over and out.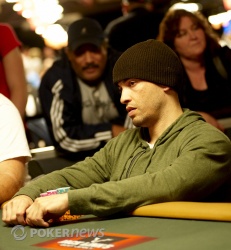 David Warga:
/
/

Maxwell Troy:
/
/
David Warga completed, and Maxwell Troy got his micro-stack in again. Warga called, and the rest of the cards were dealt.
Troy had a good few straight outs by sixth street, but none of them came in on seventh. "Nice hand," he told his opponent, and with that, we have a winner.
Maxwell Troy is like limescale, you just can't get rid of him! Just as it looked like he was dead and buried, he pulled out a low to split the pot.
David Warga:
/
/

Maxwell Troy:
/
/
Troy stays on circa 100,000, whilst Warga stays on the edge of his seat. The bracelet is within touching distance, but every time he reaches out, Troy slaps his hand and exclaims, "Pas touchez!"
"Keep hanging around," said David Warga in a Russian accent. "Keep hanging around."
And that's exactly what has been happening as, whatever his stack, Warga can't seem to dispose of Maxwell Troy.
Exhibit #1 saw Troy all in on third street before surviving with a pair of fives he had in the hole.
David Warga:
/
/

Maxwell Troy:
/
/
.
This put Troy back up to around the 100,000 mark.
Level: 27
Blinds: /
Ante:
Maxwell Troy got his chips in the middle several times, but each time he ended up chopping the pot with David Warga. Troy also folded a few, and so was down to just 95,000 when he got his last in again.
Troy:
/
/

Warga:
/
/
Although it looked for a while as though king high would win, in the end Troy's rivered pair of nines was good enough to scoop the pot.
He remained desperately short on 200,000.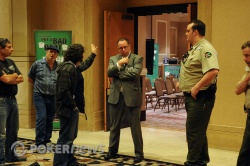 While the heads up match continued on the feature table, outside in the hallway things were kicking off.
We only caught the tail end of the fracas, but a combination of detective skills and a good working knowledge of Hebrew means that we can report the following:
- Someone approached third place finisher David Levi in the payout room, claiming he owed him money.
- Levi told him that this was not the case.
- The gentleman in question attempted to assault Levi - whether or not the attempt was successful, we do not know.
- The gentleman in question made some anti-Semitic remarks and threatened violence at a later, unspecified time.
- When we arrived outside, Levi was engaged in an impassioned argument with the security guard over why he had not done enough to protect Levi.
It all seems to have died down now, although no-one in the Levi party looked happy...
Maxwell Troy got involved (showing a pair of nines on fourth street), but folded to a bet from David Warga, showing a pair of queens by sixth, on seventh street. Troy dropped to 185,000.