Event #28: $2,500 Pot-Limit Omaha
Days: 3
Event #28: $2,500 Pot-Limit Omaha
Day 3 Completed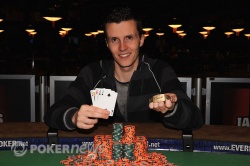 The $2,500 Pot Limit Omaha event has come to an end with Miguel Proulx outlasting a field of 596 to take down his first gold bracelet. The day started with twelve players on the march to a winner. Matthew Reed, Joe Serock and Dilyan Kovachev were all eliminated leading up to the final table.
Once there, action seemed to slow as players felt one another out and took a patient approach; in fact, only one player was eliminated early on, Patrick Hanoteau. Things changed after the players returned from their dinner break in a big way. Action picked up and the eliminations began to mount. Tommy Le was the next to fall, followed by Trevor Pope.
It was at this point that Miguel Proulx seemed to switch gears and become much more aggressive. The very next hand after eliminating Pope, he knocked out Karl Gal. Michael Greco then eliminated Joerg Engels and Proulx countered by sending Stephane Tayar home.
Once it was three handed, it was anyone's game. L.J. Klein doubled to 1.5 million through Proulx, which essentially evened the two, with Greco close behind at 850,000. After changing chips back and forth, Greco was eliminated, setting up a heads-up battle between Klein, who was the chipleader at the end of Day 1, and Proulx, who was the chip leader coming into the final day.
The heads-up battle was a contest of wills, characterized by patient play and well thought out aggression. Proulx was at a chip disadvantage but managed to double up and bring the stacks within 100,000 of each other. In the end, Proulx dispatched Klein with the nut flush to claim his first gold bracelet and the $315,311 first place prize.
Congratulations to Miguel Proulx, Event #28 Champion!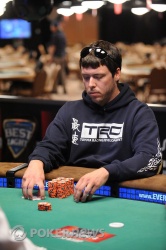 Miguel Proulx and L.J. Klein had battled for about 45 minutes, with Proulx holding a slim advantage over Klein when the final hand took place.
Klein opened with a raise to 125,000 from the button, and Proulx called. The flop came monotone --
. Proulx checked, Klein bet 75,000, and Proulx took about a half-minute before making the call.
The turn was the
. This time Proulx bet out 200,000, and it was Klein's turn to think about it. He, too, took about a half-minute to make his decision, then made the call.
The river was the
, and Proulx quickly checked. Klein studied for just a moment, then said he was all-in. Proulx called instantly, turning over
for the unbeatable nut flush. Klein's losing hand was rapidly scooped, but it appeared he had
for two pair.
Klein finishes as runner-up, and Miguel Proulx is our winner!

Miguel Proulx -- 2,500,000
L.J. Klein -- 1,970,000
L.J. Klein raised to 125,000 and Miguel Proulx made the call. The flop came
and both players checked.
Proulx then bet 250,000 when the
hit the turn. Klein announced a raise and pushed forward 700,000. Proulx didn't take long to declare that he was all in. Klein took a few moments and then tossed his cards in the muck.
With that hand, Proulx increased his stack to 2.9 million and took the chip lead from Klein, who dropped to 1.475 million.

Another half-dozen hands and L.J. Klein had successfully chipped away further at Miguel Proulx's stack, moving up to 3.54 million versus Proulx's 985,000.
Then came a hand in which Klein opened with a raise to 125,000 from the small blind/button, and Proulx reraised to 375,000. Klein thought a half-minute, then said he was reraising enough to put Proulx all in, and Proulx called.
Proulx

Klein
The flop came
, giving Klein a set of fours. It appeared the end was near. But the
dramatically arrived on the turn, giving Proulx the better set. The river was the
, and Proulx doubles back all of the way to 2 million, not far behind Klein's 2.4 million!

We've seen ten hands of heads-up thus far without much significant chip movement. Each player has taken a few small pots off the other, but no major confrontations have occurred as yet.
L.J. Klein continues to enjoy about a 2-to-1 chip advantage, with 3 million to Miguel Proulx's nearly 1.5 million.
Level: 28
Blinds: 30,000/60,000
Ante: 0

On just the second hand of heads-up play we saw a potentially tourney-ending hand. Following a flop of
, Miguel Proulx bet 100,000, L.J. Klein raised pot to 350,000 from the button, Proulx reraised all-in, and Klein called.
Both players had flopped straights with
in their hands, but Klein had a couple of spades and the possibility of taking the whole pot.
But neither the turn nor river brought a spade, so they chopped the big pot.