Event Info
| | |
| --- | --- |
| Buy-in | $10,000 |
| Prize Pool | $1,607,400 |
| Players | 171 |
Level Info
| | |
| --- | --- |
| Level | 30 |
| Blinds | 80,000 / 150,000 |
| Ante | 0 |
Event #29: $10,000 Limit Hold'em Championship
Day 3 Completed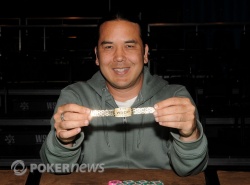 After nearly five hours of heads-up play, Matt Keikoan finally has all the chips in front of him.
Fourteen and a half hours ago, our final 13 players returned to the Rio to crown a new limit hold'em World Champion. The sun hadn't yet set over the Las Vegas Valley when our final table was set, and now, as Keikoan poses with his bracelet, the sun is well on its way back up in the sky.
Keikoan won his first bracelet two summers ago, topping a 1,592-strong field in the $2,000 no-limit hold'em event. Now he has a pair of them, and a wide smile across his face, his family surrounding him in his moment of victory. Despite being knocked down to only a couple of bets again and again, Keikoan never gave up, never backed down, and truly earned his $425,969 payday.
Thanks for sticking around with us tonight, and a hearty congratulations to Matt Keikoan for winning this poker marathon.
For all of us at PokerNews, good night and good luck from Las Vegas.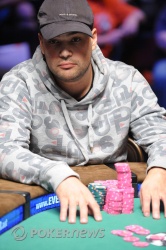 Daniel Idema was all in for 145,000 in the big blind, and all that was left was to deal the cards and flip them over:
Idema:

Keikoan:
Idema was going to need to catch a card, but the flop was a big swing and a miss; it came out
, keeping Keikoan in the lead. The turn
was safe for him as well, and Idema was one card away from elimination.
River:
.
That's all she wrote. Keikoan stood and shook hands with his opponent, and the two men congratulated each other on what truly was a great battle. It was back and forth and up and down for more than four hours, but in the end, Idema comes up one spot shy of his goal. He'll take home more than a quarter-million dollars for his runner-up finish, though, and that'll go a long way towards soothing his nerves once it all settles in.
Dan Idema raised from the button and Matt Keikoan called.
Keikoan checked the
flop over to Idema, who bet. Keikoan raised and Idema called. The turn was the
and Keikoan bet out. Idema raised and Keikoan's railbirds leapt from their seats and surrounded the stage. Keikoan called. The river was the
and Keikoan checked. Idema bet and Keikoan called.
Idema showed a pair of sevens with
, but Keikoan had two pair with
and took down the pot.
Idema is on fumes with only 150,000.
1. Keikoan raised and Idema called. Idema check-folded to Keikoan's bet on the
flop.
2. Idema raised and won the blinds.
3. Keikoan gave Idema a walk in the big blind.
4. Idema raised and Keikoan called. Keikoan check-folded to Idema's bet on the
flop.
5. Keikoan raises and wins the blinds.
Matt Keikoan just dragged himself a fairly big pot on a 6-5-3-3-6 board. He got bets in on the turn and the river, and Daniel Idema called him down with
. Idema had kicker problems, though. Keikoan tabled
, and his one-better kicker earned him the pot and the chip lead once again.
He's got his chips stacked awkwardly, but it looks like he's up over 3.2 million now.
There are now 17.1 big bets in play.
Level:

30
Blinds:

80,000/150,000
Ante:

0
Keikoan raised, Idema three-bet and Keikoan called.
Idema led out on the
flop and Keikoan called. The turn was the
and Idema bet again. Keikoan called. Both palyers checked the
on the river.
Idema showed
but Keikoan rivered the flush with
and took it down. Keikoan is up to 1.85 million.