James Akenhead Eliminated by Kenneth Damm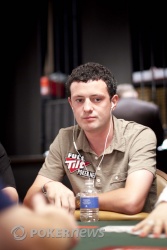 We were a little suspicious about what James Akenhead had when he limped in from middle position. A player in late position called as well, but Kenneth Damm raised to 1,250 from the cutoff. At this point Akenhead moved all in with the other player folding and Damm making the call.
Before cards were turned over Damm asked, "Do you have aces? Because I have kings" Damm showed his
and Akenhead shook his head and turned over
.
Upon seeing Akenhead's cards Damm asked, "Please hold up one more time," to which Akenhead said, "All he gets are aces and kings."
The flop was an unexciting
. The turn of
and the
on the river did nothing to change the situation and Akenhead exited the area wishing the players good luck.