Event #5: $1,500 No-Limit Hold'em
Day: 3
Event #5: $1,500 No-Limit Hold'em
Day 3 Completed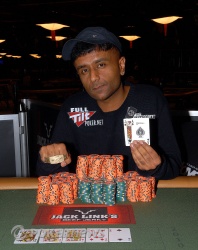 Event #5 started off with loads of promise for the 2,092 players that registered, but only 53 would live to see Day 2. The money bubble hit fast on the second day, and we eventually got down to 23 players before play stopped.
Today's action started out with a flurry of eliminations (ten to be exact) happening in the first hour. In no time at all we were playing ten-handed on a single table. The final table would play in waves, with some stretches of hyper-aggressive preflop action and other stretches where it seemed like it would take ages between big hands.
Praz Bansi picked up poker in 2005 and wasted no time winning his first bracelet, which he snagged in 2006. Bansi has a number of World Series of Poker and World Poker Tour cashes, including a $594,000 payday for taking third in the 2009 WSOP Europe Main Event.
Today he kept a quiet presence through much of the day until the table was four-handed. At that time he got aggressive and carefully maneuvered his way through the field until he had every chip in play. He slowly stole chips from Vincent Jacques at the final table and came mind-numbingly close to winning the tournament on two occasions when Jacques managed to find last-minute outs.
In the end, Bansi got the cards necessary to win the final hand and book a win, his first bracelet in four years.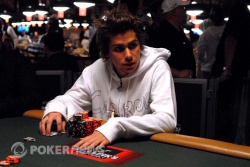 Vincent Jacques didn't have a lot to work with when he re-raised preflop, putting his last 315,000 chips into the pot after Praz Bansi had made it 225,000 to go. Bansi made a quick call and Jacques' tournament life was on the line once more.
Bansi:

Jacques:
Bansi paired his jack on a flop of
, but in the spirit of this final table, he couldn't get away without a sweat when the
fell on the turn. However, the
came on the river giving Bansi the best hand and every chip in play.
Vincent Jacques has been losing a number of small pots to Praz Bansi and is now sitting on less than a million in chips.
Vincent Jacques went all in on the button and Praz Bansi considered his options for a good minute before calling.
Bansi:

Jacques:
Things were looking good for Bansi when the flop dropped
. The
on the turn paired Bansi's hand, drastically reducing Jacques' outs. But when the
fell on the river, both players made a straight and chopped the pot. Bansi looked at the board in disbelief and slowly shook his head for a moment before taking his seat.
Praz Bansi has won number of small pots and is continuing to chip away at the short-stacked Vincent Jacques.
Both players saw a cheap flop of
, and Bansi bet 150,000, getting a call from Jacques. When the turn came
, Bansi check-called a 300,000 bet from Jacques would later win the hand after betting 1,000,000 into the river, which was
.
Current chip counts:
Bansi: 7,000,000
Jacques: 2,000,000
The first few hands in this level haven't brought a flop yet. So far all we've seen are blinds changing hands. Jacques has the shorter stack, but is still sitting with 30 big blinds.
Level: 29
Blinds: 50,000/100,000
Ante: 10,000