Event #23: $2,500 Eight-Game Mix
Day 1 Completed
Official Day 1 Chip Counts
| | | | | | |
| --- | --- | --- | --- | --- | --- |
| Doug Booth | | | | 86,400 | |
| Timothy Finne | | | | 72,500 | |
| Ebrahim Mourshaki | | | | 64,850 | |
| Nikolay Evdakov | | | | 57,725 | |
| Brandon Cantu | | | | 43,700 | 21,700 |
| Hooman Nikzad | | | | 43,425 | |
| Ben Yu | | | | 40,025 | |
| Ivan Freitez | | | | 39,600 | |
| Gregory Dyer | | | | 39,250 | |
| Sanjay Pandya | | | | 37,725 | |
| Mayu Roca Uribe | | | | 37,725 | |
| Lamar Wilkinson | | | | 36,300 | |
| Rajesh Vohra | | | | 36,300 | |
| Adam Kornuth | | | | 35,875 | |
| Owais Ahmed | | | | 35,650 | |
| Bruce Levitt | | | | 35,650 | |
| Marco Traniello | | | | 35,000 | -1,000 |
| Vladimir Kochelaevskiy | | | | 34,275 | |
| Steve Wong | | | | 33,825 | |
| Bruno Benveniste | | | | 33,825 | |
| Ashton Griffin | | | | 32,850 | |
| Brian Rast | | | | 32,775 | 17,675 |
| David Stroj | | | | 31,500 | |
| Brian Hastings | | | | 31,400 | |
| Rami Boukai | | | | 31,350 | |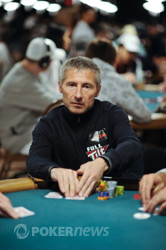 After eight levels of playing eight different games, we are through with Day 1 of Event #23: $2,500 Eight-Game Mix. 489 players entered this tournament, and of that, 248 will be returning tomorrow. 48 of those players will make the money, but all of them have one thing on their minds: the first place prize of $278,144 and that shiny gold bracelet.
The overnight chip leader looks to be Abraham Mourshaki. He will be bagging 64,850 chips, and held the chip lead for the latter half of the day today. Right on his heels in second Nikolay Evdakov , who has 57,725. Other big names that are still in the hunt are Marco Traniello, Greg Mueller, Victor Ramdin, Noah Boeken, Eugene Katchalov, and fresh off their epic heads up battle just a few nights ago, both John Juanda and Phil Hellmuth.
Also in contention is defending champion Sigurd Eskeland, who bagged 18,150 chips tonight. Some of those players who weren't fortunate enough to survive the day were Daniel Negreanu, David Williams, Mike Matusow, Todd Brunson, and Pokernews's own Remko Rinkema.
Play will continue tomorrow at 3 pm local time. The players will reach the money tomorrow, and will play a full 10 levels. Be sure to tune back into Pokernews for all the action as we will bring you blow by blow coverage of every game all day!
Well that was an uneventful level. We did hear about a player capping every street in Razz with a full house from Kevin MacPhee. Other than that, things have been pretty slow during this last hour.
We've hit the magical ten-minute mark on the clock, and it has been paused. We'll play three more hand at each table before the bags come out.
60,000
5,000

Nikolay Evdakov

48,000
-4,000

Noah Boeken

PokerStars Team Pro (Holland)

38,000
2,000

Marco Traniello

36,000
16,000

Jimmy Fricke

28,500
15,100

David Bach

28,000
19,800

Eric Buchman

24,000
-4,000

Phil Hellmuth

23,500
-500

Brandon Cantu

22,000
7,400

Greg Mueller

21,000
-7,000

Frank Kassela

21,000
6,000

Max Pescatori

19,500
2,500

Ville Wahlbeck

PokerStars Team Pro (Finland)

19,500
3,500

Dan Kelly

18,000
3,400

John Racener

17,700
-3,900

Shawn Buchanan

17,100
13,900

Al Barbieri

16,500
500

Dutch Boyd

16,000
5,500

Victor Ramdin

PokerStars Team Pro (USA)

15,700
3,400

Brian Rast

15,100
4,100

Allen Kessler

15,000
10,300

Brett Richey

14,000
-4,800

Josh Arieh

14,000
10,000

John Juanda

13,700
9,100

Eric Froehlich

13,000
-4,800
"You puttin' that in the updates?" Al "Sugar Bear" Barbieri was talking fast as he walked up to our table. "Put that in there. Tell 'em I got knocked down to eight, but I bounced back to sixteen. Tell 'em. It's hard to knock Sugar down. I got balls like a f***in' elephant. Tell 'em."
Now you know. Barbieri is up to 16,000 once again. And he's got balls like -- nevermind.
We're honestly still spotting fresh faces for the first time today, and we've just spotted a good one. Mickey Appleman is no stranger to these mixed games. Forty WSOP cashes, and four gold bracelets -- all four in different games. His first bracelet was in 1980, and his last in 2003. It looks like he hasn't had a haircut since then, and he's taken to a white athletic headband to keep his mop in check. In any event, Appleman is most certainly on our radar now, and we pick him up as he gets tangled up in a pot.
Hold'em
McLean Karr opened with a raise, and Appleman made it three bets. Karr called, and he check-called a bet on the
flop. The
turn drew checks from both men, and Karr took his cue to fire out on the
river. It was a mistake. Appleman quickly raised, and Karr tank-called.
He couldn't beat
, and Appleman takes the pot to move up to about 17,500.
We just saw a funny little interaction between David Chiu and one of the floormen. Chiu had been double tabling the $1500 Pot Limit Omaha Event and the $2500 Eight-Game Mix all day, but he did not know that the Omaha tournament had made the money. When the floor came over to give him his pink slip for his chip bag, he was told he was in the money. Shocked, Chiu simply stated, "Wait they are in the money over there? Wowwww." Tablemate Noah Boeken chimed in, "Man David you are running great today. Killing us over here and you made the money over there and you didn't even know it!"
With all of the big names in the field, defending champion Sigurd Eskeland has gotten lost in the shuffle, but we just wanted to make a note that he is still alive as we approach the start of the last level of the day. He has around 13,000, which is literally dead on with the average stack of the field.