Joseph Ressler Eliminated in 5th Place ($105,967)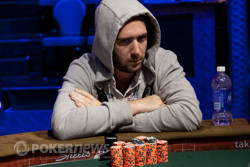 It's probably the worst thing in poker that you could possibly imagine. You get your money in good and then get busted in the worst way possible - your opponent hits the one-outer.
But that's exactly what happened to Joseph Ressler and as a result, he's our fourth-place finisher, collecting $105,967.
Ressler raised to 80,000 from under the gun and the action folded to Steven Merrifield who called from the small blind, as did Jason Mercier to go three ways to a flop of
. Merrifield and Mercier checked to Ressler who bet 150,000, only to see Merrifield check-raise to 425,000.
Mercier folded, Ressler snap-shoved and Merrifield insta-called.
Ressler:

Merrifield:
Both sides of the Mothership erupted - set over set! Not the best news for Merrifield's crew, but Ressler's supporters were thrilled and became even more vocal when the
bricked on the turn.
"One-outer for the ball game!" cried one of Merrifield's crew.
River:
Bink.
The roar that went up from Merrifield's mob drowned out the PA system in the Amazon. Merrifield jumped down from the stage and his friends bum-rushed the rail, hugging, high-fiving and fist-bumping all around. Ressler and his supporters went catatonic - all them stood rigid in the same pose, frozen in disbelief, hands over their mouths as if they were going to puke.
All the sickness aside, Merrifield is now way out in front with more than 3.3 million in chips.