Event #54: $1,000 No-Limit Hold'em
Day: 4
Event #54: $1,000 No-Limit Hold'em
Day 4 Completed
Level 31 : 60,000/120,000, 15,000 ante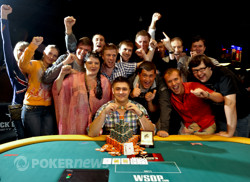 Max Lykov came into today's final table as the chip leader with almost a third of the chips in play and never lost that lead as he stayed in command throughout the day's proceedings.
The action was fast early on as Stanislav Alehkin hit an early double up with
through Joshua Evans'
to give the Russian a fighting chance. It was Sebastien Roy though, who would bust first when he reraised all in with
against Lykov, the latter's
rivering broadway to send the French-Canadian spinning out of the event.
Joshua Evans, crippled from doubling up Alekhin earlier was when he pushed with
and found Dror Michaelo more than willing to make the call with
. Michaelo had a real sweat though, when the board came
, fading the flush draw.
With Lykov and Michaelo holding most of the chips, everyone else was suffering as short stacks. Douglas MacKinnon made a push with queen-seven but Lykov held pocket sevens to dominate him, a queenless board later and the chip leader was increasing said lead.
Ren Ho Zhang won a huge flip against Alekhin and then dispatched the crippled short stack in sixth place, leaving just one Russian remaining in Lykov. At this point, Englishman Warren Wooldridge came into his own, first doubling through Lykov then knocking out Harald Olsen in fifth place. Olsen had pushed with
from the small blind and Wooldridge made the call with
, neither player hit and Wooldridge moved up into second place as a result.
Ren Ho Zhang was knocked out in Lykov in third when he bluffed all in with a missed straight draw, only to find Lykov happy to call with a rivered flush. Wooldridge was then eliminated in 3rd place after an extended period of three-handed play, Wooldridge got it in with
against Lykov's
but the latter flopped a nine and it managed to hold to give a 2:1 lead over Michaelo going into heads up.
The final battle against Michaelo was brief and bloody, the Russian getting paid off when he flopped the nut straight and then quickly dispatching his foe when he had him all in with a dominating hand. Lykov takes home nearly $650,000 for his efforts and already having an EPT title, is now two-thirds of the way towards a triple crown.
It also makes him the third Russian to capture a bracelet this summer, an impressive achievement. Congratulations to him from everyone at PokerNews and don't forget, the Main Event will be starting tomorrow from 12pm!
Maxim Lykov is the newest WSOP bracelet winner
Level 31 : 60,000/120,000, 15,000 ante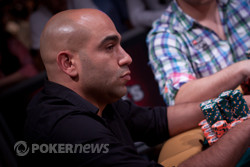 Dror Michaelo raised to 250,000 on the button and Maxim Lykov slid out a large stack of green T25,000 chips totaling around 700,000. Michaelo then announced he was all in and Lykov snap-called.
Michaelo:

Lykov:
Michaelo was behind and would need some help to stay alive. The flop came
making Lykov's hand even stronger and leaving Michaelo drawing very slim. The
on the turn sealed Michaelo's fate and after the
came on the river Michaelo and Lykov shared a friendly handshake before Lykov flew over to the rail to hug his friends who were already cheering in excitement.
Michaelo will take home an impressive $401,296 for his performance.
Level 31 : 60,000/120,000, 15,000 ante
Max Lykov raised to 260,000 and Dror Michaelo made the call to see a
flop.
Michaelo led out for 325,000 and Lykov made the call to see the
turn. Michaelo fired 325,000 again and Lykov made it 850,000 to play. Michaelo made the call and then fired out 800,000 on the
river.
Lykov seemed a little concerned, asking Michaelo how much he had back before electing to just call.
Michaelo flipped
but Lykov showed
for the flopped straight to take an even bigger lead in this event.
Level 31 : 60,000/120,000, 15,000 ante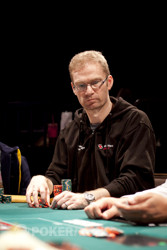 Warren Wooldridge raised to 300,000 on the button and Maxim Lykov announced he was all in from the big blind. Wooldridge called putting himself at risk.
Wooldridge:

Lykov:
Wooldridge was in the lead and poised to double until the flop came
giving Lykov a pair of nines. Wooldridge would need to pair his jack or hit an eight to make a straight to stay alive but the turn and river brought the
and
and Wooldridge was eliminated.
Max Lykov raised to 250,000 on the button and Dror Michaelo re-raised to 620,000. Lykov wasted little time in declaring he was all in and Michaelo snap called putting himself at risk.
Lykov:

Michaelo:
Michaelo was ahead and when the flop came
his hand was nearly unbeatable. The turn brought the
leaving Lykov drawing dead and the river was a meaningless
. Michaelo doubled his stack and took a decent chunk of chips from Lykov in the process.
Level 31 : 60,000/120,000, 15,000 ante
Max Lykov has moved the aggression up another notch. He's raising almost every pot and winning the vast majority while the other two players are yet to find a way to combat it.
The only major pot that went away from him was when he raised to 260,000 in the small blind against Warren Wooldridge but then check-folded to a 500,000 bet on the
flop.
Backed by a strong Russian rail however, it's hard not to back him at this point.
Level: 31
Blinds: 60,000/120,000
Ante: 15,000