No Number 12 For Hellmuth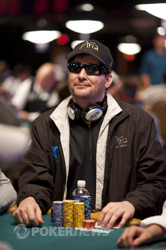 "I'm all in!", Phil Hellmuth shouted at some of his friends on the rail. He had moved his chair back and was leaning over the table awaiting his fait. The 11-time WSOP bracelet winner had around 75,000 chips and his under-the-gun shove got called by French native Antoine Nowak. "You got ace-queen?", Hellmuth asked Nowak who didn't respond and turned over his cards.
Hellmuth:

Nowak:
The board ran out
, and before Hellmuth could say anthing Nowak starting screaming, "OUI PAPA! OUI PAPA". Nowak blasted through the Amazon Room in a Fillipo Candio like fashion. Nowak was close to high fiving himself and anxiously started looking for his friend who was also still in the tournament to celebrate this great succes.
Across the room people starting mocking the overly exciting Frenchman who had just eliminated a very quiet Phil Hellmuth. "Good game guys", the 1989 Main Event champion said as he made his way to the payout desk.
For his finish, Hellmuth earned $7,204 and his 86th career WSOP cash.