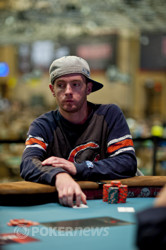 Stud Hi/Lo:
In the last hand of Stud Hi/Lo, Elior Sion completed with the
and received a call from Robby Rasmussen, who was showing the
. Sion proceeded to bet the turn, Rasmussen called, and then the latter bet after the former checked fifth.
Sion called the bet and then check-called bets on both sixth and seventh.
Sion: (x-x) /
/ (x) (
)
Rasmussen: (x-x) /
/ (x) (
)
Rasmussen made a pair of deuces for the high, which ended up being good, and his seven-perfect downed Sion's 7-6-3-2-A to scoop the pot.