Schwartz Over Six Figures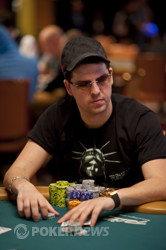 Noah Schwartz has just became the second player we noticed, after Jeff Madsen, who eclipsed the 100,000 chip mark. And it was in, probably, his best game.
As of today Schwartz has over 2.5 million dollars in live tournament earnings, this year already being the best of his career with $682,763. A cash today in this event would be Schwartz' his first non Hold'em or Omaha cash ever, and it's looking very good for him so far!
No Limit Hold'em
An unknown player raised to 1,500 from the hijack, after which Daniel Idema made the call from the small blind. Schwartz was in the big blind, and he put out a three-bet to 7,200. The initial raiser moved all in for right around 23,000 and Idema folded his hand. Schwartz's intentions were very clear as he snap-called.
The board ran out
and Schwartz raked in this big pot. Idema claimed he had folded
, but seeing a river card would've probably been impossible with these two hands clashing.