Kyle Julius Eliminated in 2nd Place ($589,687)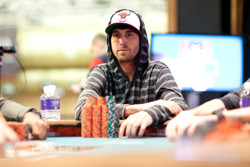 It took just a few hands after the break for Peter Vilandos to close out the heads-up duel.
Vilandos limped on the button, Kyle Julius moved all-in for around 2.1 million from the big blind, and Vilandos made the call.
The crowd was clearly on the side of Julius as they bayed for a five like the wolves in the face of a moon.
Flop:
There was a stunned silence…then after a few seconds the sounds of, "FIVE, FIVE, FIVE," bellowed from the crowd once more.
Turn:
"DEUCE, DEUCE, DEUCE," screamed the fans in louder and louder tones.
River:
The crowd turned their heads away from the table and the two combatants shook hands. Kyle Julius had come as close as he had ever come to winning a WSOP title, and for that he should pat himself on the back. For Vilandos it is now a hat trick of WSOP titles and what an amazing feat that is.