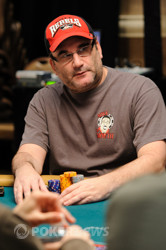 We noticed things were a little quieter here in the Tan Section of the Amazon Room, which prompted us to do a quick look for Mike "The Mouth" Matusow. Unfortunately we discovered that he had been eliminated. We checked in with Mark Gregorich, who was seated at Matusow's former table, and he was kind enough to fill us in on some of the details.
According to him, Matusow was extremely short stacked and committed with
and was called by the
of Robert Campbell in the big blind.
The
flop gave Matusow a ton of outs, but the
turn gave Campell the lead with a pair of sixes. Much to Matusow's angst, the river paired and Campbell's sixes held to eliminate "The Mouth."
"The only write up I'll get is donkey calling a short stack," Campbell laughed when he heard Gregorich telling the story.