Matusow Out of the F***ing Tournament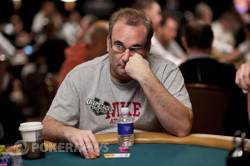 Mike Matusow was just eliminated from Event 60: $10,000 2-7 Draw Lowball (No-Limit). We don't know the details, but he wasn't happy.
"Glad I'm out of this f***ing tournament," he blurted, getting out of his chair.
He then gave Daniel Negreanu a spirited bad beat story, and exited the Tan Section of the Amazon Room.