Dien Le Eliminated in 9th Place ($59,969)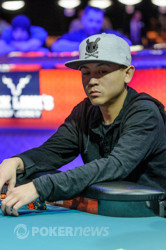 The end of Dien Le's tournament has come to a halt in dramatic fashion as he exits the door in 9th place. It took two back-to-back hands to silence Le and the first one started like this.
Derrick Huang was in middle position when he shoved all-in for 670,000. Dien Le was in the cut-off seat, where he also shoved all-in, with his stack worth 680,000. The play was then on Greg Mueller in the big blind and he immediately got out of his seat. He seemed sickened by what he was seeing.
"I'm allowed to talk about my hand right?" Mueller said. "I'm last to act, i can show my hand or just say what it is?"
He still looked quite unhappy with the decision he would have to make as he said, "I have ace-king in the big blind."
Eventually Mueller decided to lay it down, showing his
as he did so. With Mueller out and two players all in, we would watch the dealer spread five cards on the felt.
Le:

Huang:
By the time the board had run out
, Huang had even more outs and when the
hit the river, he had made his straight to stay alive and prosper. Le however, was down to just 10,000 in chips.
The very next hand, half of Le's stack was all-in with the ante and it would end up being the last hand of his tournament. That hand started with Derrick Huang opening to 85,000. Dien Le then flicked in his last 5,000 and Ashkan Razavi made the call in the big blind.
On the
flop, Razavi checked and Huang bet 105,000. It was enough to get Razavi out of the hand and the two remaining players would turn their hands over. Le's
was in trouble against the
of Huang and despite the
on the turn giving Le some hope, the
on the river would end his tournament life in 9th place.