Bach Looking to Go Wire to Wire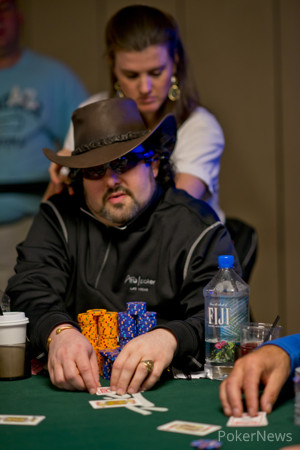 Welcome to Day 3 of Event #33: $2,500 Seven-Card Razz. Fourteen players remain out of a starting field of 301, and the biggest name by far left among them also has the most chips: David "Gunslinger" Bach bagged up just north of 300,000, putting him 41,000 clear of his nearest competitor, Ivan Schertzer. Bach, a native of Athens, Ga., is attempting to pull off the rarely seen feat of leading a tournament at every major checkpoint; he closed each of the first two days as the chip leader.
Bach appears well-positioned to add a second bracelet to his collection. His first came in the prestigious $50,000 World Championship H.O.R.S.E. event in 2009, at which he collected over $1.2 million.
First prize in this tournament isn't quite that big, checking in at $178,052, but all the players will surely be hungry to get their hands on it, as well as the World Series of Poker gold bracelet. Fellow top-five stacks Schertzer (262,000 chips), Rick Fuller (205,000), Joel Alpert (197,500) and Brent Keller (188,500) won't be letting Bach simply waltz away with the prizes and glory. Bracelet winners Randy Ohel (175,000) Frankie O'Dell (155,000) also loom as threats.
We'll be bringing you all the relevant updates right here at PokerNews, so be sure to tune in for exciting conclusion to this event and the crowning of a champion. Play begins at 2 p.m.