Steven Binks a Two-Outer to Bust Dwan
Level 8 : 1,500/3,000, 500 ante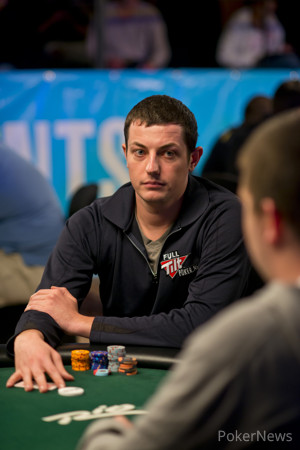 Tom Dwan raised to 7,800 from under the gun, Roger Sippl called in the hijack seat, and Brandon Steven three-bet to 32,000 on the button. Dwan called, and Sippl folded.
"How much you got there?" Steven asked Dwan. "Like One-Sixty?"
"No," Dwan responded. "It's like three-hundred."
Steven was surprised by this.
The flop fell
. Dwan checked, Steven fired out 37,000, Dwan check-raised to what looked like 94,000, Steven put in a re-raised, and Dwan moved all in. Steven called.
"You have a set of jacks?" Steven asked.
Dwan shook his head, revealing
for a pair of aces.
"Damn," Steven sighed, showing
. "But I got a backdoor flush draw."
Steven's hopes of a flush were dashed when the
turned, but the
spiked on the river to give him a set of queens and eliminate Dwan from the tournament.
"Wow," Steven said, sincerely. "I'm sorry, man."
"It's OK," Dwan shrugged, getting up to leave. "Put those to good use."
After the hand, Steven explained that Dwan's chip count threw him off.
"I thought he had a lot less," Steven admitted. "I would've played the hand completely different."
Over at the feature table, Freddy Deeb was eliminated with unknown action.