Just 21 Remain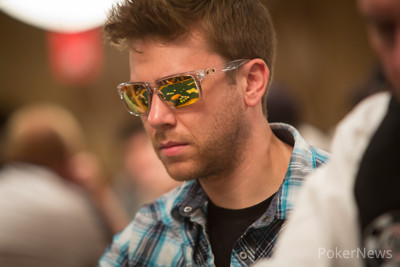 At 1 p.m. the third day of event number 49 will start it's third day. This $1,500 No-Limit Hold'em tournament started with 2,247 players but they are down to 21 after 11 levels on day 1 and 10 levels on day 2. Swedish poker professional Robin Ylitalo leads the way with more than 1.1 million in chips. Paul Dasilva has just a little less than that.
The absolute short stack with 136,000 is acclaimed poker professional Kevin MacPhee who's sure to make his sixth cash of the series today. Will he be able to do better than his 18th place finish in event number 24 ($15,586)? Also still in the running is English old school pro Barny Boatman with 347,000.
Action will begin with level 22 (8,000/16,000 with a 2,000 ante). If the tournament loses three more players there will be a redraw to form the last two tables. We'll be around all day to give you the latest updates. When the final table is reached ou won't miss a single hand since we'll be providing hand by hand coverage again.
Oh, and this is what they're playing for:
| | |
| --- | --- |
| 1st | $546,080 |
| 2nd | $338,745 |
| 3rd | $239,339 |
| 4th | $172,087 |
| 5th | $125,372 |
| 6th | $92,550 |
| 7th | $69,192 |
| 8th | $52,387 |
| 9th | $40,162 |
| 10th-12th | $31,153 |
| 13th-15th | $24,449 |
| 16th-18th | $19,444 |
| 19th-20th | $15,622 |