Michael Howell Excavates Fossilman's Stack
Level 2 : 100-200, 0 ante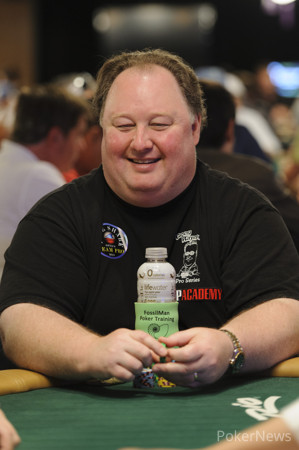 After a player in middle position opened for 600, Greg Raymer tossed out a call one chip at a time holding the button. Michael Howell was in the big blind, and he opted to pump it up with a three-bet to 2,000. Both the initial bettor and Raymer opted to flat, and the flop fell
.
Howell fired out a bet of 6,000 to fold the preflop raiser, but Raymer elected to smooth call, tossing out the requisite chips one at a time.
When the dealer burned and turned the
on fourth street, Howell slowed down with a check, and Raymer opted to fire out a bet of 6,500. It was Howell's turn to flat this time, and after he did so the river came
.
Howell tapped the table for a check, and Raymer did the same, but when Howell rolled over the
for the ultimate overpair to the board, "Fossilman" flung his cards into the muck without hesitation, almost as if he suspected Howell was riding the rockets.