Interview With Chip Leader Dan Heimiller
Level 31 : 60,000/120,000, 15,000 ante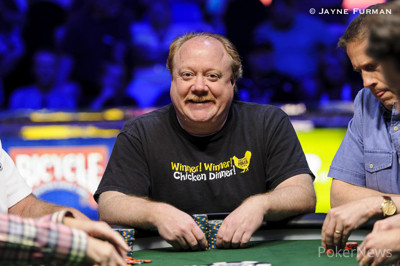 After building up a big chip lead heading into the unofficial ten-handed final table, World Series of Poker bracelet winner Dan Heimiller took a few minutes to chat with PokerNews about his second deep run in the Seniors Championship.
PokerNews: Dan, you've been playing the game for more than two decades, competing against the toughest players on the circuit in open events all around the world. Describe the difference between the play you encounter in those tournaments and the game being played by your fellow seniors.
Dan Heimiller: They're standing right there, I don't want them to hear it...don't tell anybody. OK, they play their hands straightforward more often, and they tend to call, some players tend to call weak. So there's about two or three players out of every ten that they call a little weak, so you have to careful too because you can't bluff them so often as in other tournaments.
PokerNews: They don't necessarily know how to figure out what you're trying to represent?
They are more liable to believe that you're stealing, they're a little bit more paranoid than other players are. So you've got to be careful of that, and then they play their hands straightforward. Which means, if they have something they bet it, they tend not to check-raise as often.
PokerNews: As a member of poker's old school, would winning the Seniors Championship mean anything special to you, or is this just another stop along the circuit you've been travelling for nearly half your life?
Oh that would be huge, because if I hit this one that would be the most money I've ever won in any tournament. And also, it's very difficult to get through 4,400 players, and although 20 percent or 30 percent are a little weak, there's at least 50 percent of the field that are really sharp. They've been playing a long time.