Event #38: $10,000 Seven-Card Stud Hi-Low Championship
Day: 3
Event #38: $10,000 Seven-Card Stud Hi-Low Championship
Day 3 Started
| Table | Seat | Player | Chip Count |
| --- | --- | --- | --- |
| 359 | 1 | Richard Sklar | 301,000 |
| 359 | 2 | John Racener | 111,000 |
| 359 | 3 | John Monnette | 139,000 |
| 359 | 4 | --empty-- | -- |
| 359 | 5 | Todd Brunson | 290,000 |
| 359 | 6 | --empty-- | -- |
| 359 | 7 | George Danzer | 785,000 |
| 359 | 8 | Chris George | 157,000 |
| | | | |
| 360 | 1 | --empty-- | -- |
| 360 | 2 | Norman Chad | 148,000 |
| 360 | 3 | Calvin Anderson | 372,000 |
| 360 | 4 | Ted Forrest | 387,000 |
| 360 | 5 | David Singer | 202,000 |
| 360 | 6 | Jeff Lisandro | 420,000 |
| 360 | 7 | Alexander Jung | 293,000 |
| 360 | 8 | Brian Hastings | 415,000 |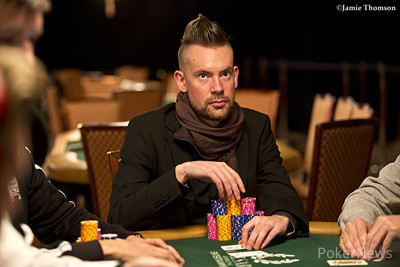 It's been an incredible summer for German pro George Danzer. At the end of May he kicked off his 2014 World Series of Poker by placing fifth in Event #5: $10,000 Limit 2-7 Triple Draw Lowball for $70,308, and then a week later he won his first gold bracelet and $294,792 in prize money in the Event #18: $10,000 Seven-Card Razz Championship. Toss in two more cashes, and Danzer jumped out to an early lead in the 2014 WSOP Player of the Year race with 456.20 points, which is more than 42 points ahead of his next closest competitor.
Today Danzer will add further to his résumé and WSOP POY total as he is already in the money coming into Day 3 of the Event #38: $10,000 Seven-Card Stud Hi-Low Championship, a tournament that originally attracted 134 players. What's more, he starts the day as the chip leader with 785,000. Will Danzer be able to capture his second gold bracelet and the $352,696 first-place prize?
It's certainly possible, but if he's to do it he'll have to overcome a dozen other players comprised of some of the best in the game. For instance, there is Jeff Lisandro (420,000), who finished as the 2009 WSOP POY after winning three bracelets that summer (all in stud variants we might add); online superstar Brian Hastings (415,000); and Ted Forrest (387,000), who defeated Phil Hellmuth heads up in Event #7: $1,500 Seven-Card Razz to capture his sixth bracelet.
Also in contention are players like Richard Sklar, John Racener, and Chris George, all looking to claim their first bracelet. Finally, we'd be remiss if we didn't mention that famed ESPN poker commentator Norman Chad is still alive, though he is one of the shorter stacks. Even so, he's confident and clearly having some fun:
Daniel Negreanu stared me down. Bang! KOed him. Mike The Mouth stared me down. Bang! KOed him. If Jeff Lisandro even looks at me, he's GONE.
Follow @NormanChad
He's also receiving some support from those in the poker community:
The always witty @NormanChad bracelet hunting in $10k Stud 8 w/13 left. Believe it or not, he REALLY can play this game. GL! #hopeforall
Follow @MikeSexton_WPT
It's official: @NormanChad has outlasted Mike Sexton in the @WSOP 10K Stud-8 event. Anything more is gravy.
Follow @lonmceachern
The PokerNews Live Reporting team will be on hand with all the live coverage starting at 2 p.m. local time, which is about an hour from now. Join us then as we look to crown a champion in the Event #38: $10,000 Seven-Card Stud Hi-Low Championship!
Level: 21
Limits: 12,000/24,000
Ante: 3,000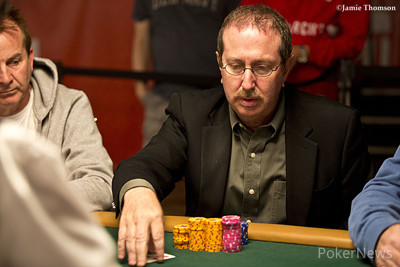 The 2014 World Series of Poker marks the 10th anniversary of the annual event taking place at the Rio All-Suite Hotel and Casino in Las Vegas. One man that has been there all that time — and even a year before — is WSOP commentator and funny man Norman Chad, who is among the final 13 in this event.
Since 2003, Chad has served as co-commentator alongside Lon McEachern. But how much do you know about him aside from that? We're guessing not a whole lot, which is why we've decided to delve into the past of the man who uttered the memorable line "This is beyond fairy tale — it's inconceivable."
Born in 1958 to Seymour and Perla Chad, little Norman grew up in Silver Spring, Maryland. He attended Northwood High School and eventually graduated in 1976, but not before serving as the sports editor for the school paper.
He would continue writing sports-related material while at the University of Maryland, College Park, the institute where he would earn a degree in American Studies. After stints in stand-up comedy, writing for Sports Illustrated, penning two scripts for ABC's Coach and three more for HBO's Arliss, all of that lead to one place: the World Series of Poker.
"The first time I walked into Binion's [Horseshoe Casino] in 2003, I took one look around the room at the cast of characters and realized this job was going to be everything I'd ever dreamt of," Chad has said in an interview with ESPN. "I swear, I asked myself, 'Where has this been all my life?' Then, after I watched the first show before it aired, I was so impressed at the gritty, real-life gambling feel these new producers had given it, it was just unbelievable."
It's well known that Chad, who is a nationally-syndicated sports columnist with his Couch Slouch column, loves to play Omaha/stud hi-low, even making the final table of a mixed event back in 2012 where he ultimately finished in sixth place for $36,093. Chad will have to finish eighth or better here today to top that score.
We picked up the action on fourth street when George Danzer bet and John Monnette called. The latter then led out when he took the lead on fifth, Danzer called, and then Danzer check-called a bet on sixth after retaking the lead.
Danzer checked for a second time on seventh and then folded to a bet from Monnette.
Danzer:
/
/
fold
Monnette:
/
/
Norman Chad completed with the
and Calvin Anderson, who was showing the
, called him. Anderson then check-called a bet of 12,000 on fourth street before Chad took the lead and led out for 24,000. Anderson thought long and hard but eventually conceded the hand.
Chad:
/

Anderson:
/
fold
John Racener completed with the
up and George Danzer called him with a
. Danzer then check-called a bet of 12,000 on fourth before both players checked fifth and sixth. Danzer checked for a fourth time on seventh, and then called when Racener bet 24,000.
Racener:
/
/

Danzer:
/
/
Racener tabled aces and kings for two pair, and it was good as Danzer scooped up his cards and sent them to the muck.
We heard Todd Brunson bemoan his luck against George Danzer over at Table 448, and by the time we made our way over action had been complete.
Brunson:
/

Danzer:
/
Brunson stated that he thought he was going to scoop with a 7-4-3-2-A low and aces for a high, but that wasn't the case as Danzer had the same low with two pair. That meant Brunson got quartered.
Player
Chips
Progress

George Danzer

900,000

200,000

Todd Brunson

155,000

-135,000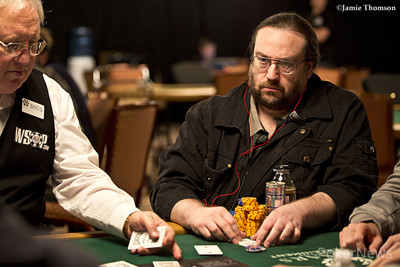 Todd Brunson completed showing the
and George Danzer and John Monnette called with the
and
up, respectively. Both Danzer and Monnette proceeded to call bets from Brunson on fourth through sixth streets, and then all three players checked on seventh.
Brunson:
/
/

Danzer:
/
/

Monnette:
/
/
Brunson rolled over a full house, and it was good as both Danzer and Monnette sent their hands to the muck.
Player
Chips
Progress

George Danzer

830,000

-70,000

Todd Brunson

250,000

95,000

John Monnette

162,000

-43,000