Event #7: $1,500 Seven-Card Razz
Day 1 Completed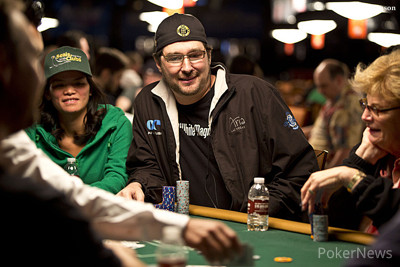 The 2014 World Series of Poker continued at 4 p.m. on Friday with Day 1 of Event #7 $1,500 Seven-Card Razz. The tournament attracted 352 runners (which was up from last year's 301 players, though that was for a $2,500 buy-in), and created a prize pool of $475,200. That will be distributed to the top 40 players with $121,196 reserved for the winner.
After ten one-hour levels of play, which have stretched into the early morning hours of Saturday, just 75 players remained with Fabio De Francesco and his stack of 66,700 leading the way. Not far behind is Jordan Siegel, who bagged up 61,100; while Matt Waxman (42,300), Jared Koppel (41,700), and Phil Hellmuth (39,700) all finished the night with healthy stacks.
Of course not everyone was so fortunate on Day 1. Among those to fall were 2010 WSOP Main Event champ Jonathan Duhamel; last year's Millionaire Maker winner Brian Yoon; the all-time leading razz winner Frank Kassela; Daniel Negreanu, who is now 0-5 at the 2014 WSOP; Brandon Shack-Harris, who jumped into the tournament immediately after winning his first bracelet in Event #3 $1,000 Pot-Limit Omaha for $205,634; and nine-time bracelet winner Phil Ivey.
Ivey late registered for the tournament and got off to a bad start. He managed a double against Ron "Schifty" Schiffman, but then fell a short time later in Level 7 at the hands of Phil "Unabomber" Laak. We missed the hand so we decided to ask Laak if he could recall any details.
"I don't remember, but it was lower than his," Laak explained when asked what his hand had been. Another player at the table offered help and reminded Laak that Ivey had made two pair to bust and that Laak actually had trips (oftentimes a worse hand in razz when combined with the other board cards). Laak, who went on to bag up 20,100, then launched into numerous tangents as he is prone to do.
While hundreds fell there were plenty of notables that punched their ticket to Day 2 including Huck Seed (28,000), Randy Ohel (22,600), Ali Eslami (19,200), Dan Kelly (17,900), Berry Johnston (17,500), Brandon Cantu (9,100), and the defending champ Bryan Campanello (7,000).
Day 2 will get underway at 2 p.m. local time on Saturday, and the plan is to play through the money bubble on the way to the final table, or at least as close as we can get in ten more levels. Join the PokerNews Live Reporting Team then for all the actions and eliminations. In the meantime, find out what Andrew "luckychewy" Lichtenberger's plans are for the summer.
Fabio De Francesco

66,700
6,700

Jordan Siegel

61,100
6,100

Matt Waxman

42,300
36,300

Jared Koppel

41,700
41,700

Kevin Iacofano

40,400
400

Phil Hellmuth

BREINFUEL Team Ambassador

39,700
-300

Greg Pappas

39,400

Amir Namatinia

38,400

Craig Chait

37,200

Brad Albrinck

34,700
9,700

Yuebin Guo

33,500

Bill Chen

31,100
19,100

Jason Corlew

31,000

Hal Rotholz

30,800

Jeet Shetty

30,300

Ted Forrest

30,200
19,200

Michael Block

30,200

Joe Loguidice

28,200

Huck Seed

28,000
8,000

Frank Henderson

23,900
13,900

Richard Bruning

23,400

Todd Dakake

23,200

Kyle Miaso

23,200

James Obst

23,100

Marcus Bower

23,000
The tournament officials have just announced that the remaining players will play four more hands at each table before bagging and tagging for the night. We're headed out to capture any last minute action and to compile a list of chip counts.
Stay tuned for both of those as well as a full recap of the Day 1 action.
| | | | | | |
| --- | --- | --- | --- | --- | --- |
| Adam Friedman | | | | Busted | |
| Yuval Bronshtein | | | | Busted | |
We won't connect the dots, but we will say that Rep Porter was recently moved to the left of Matt Waxman, which may provide some context to this tweet.
Guy sits next to me, asks for change of 1k when ante is 200. Told him I would if it were necessary. Been getting stink face since. #update
Follow @Matthew_Waxman
Bryan Campanello topped a field of 301 players to win the $2,500 buy-in version of this event last year, which technically makes him the defending champ. Campanello has been cruising along all night, but he's been having a rough go of it here in Level 10.
In a recent hand, Campanello called the completion from Brad Albrinck, who won the World Series of Poker Circuit stop in Cincinnati back in September for $221,994. Campanello then called a bet of 800 on fourth street, but ended up folding on fifth before Albrinck even had a chance to bet.
Albrink: (x-x) /

Campanello: (x-x) /
fold
| | | | | | |
| --- | --- | --- | --- | --- | --- |
| Brad Albrinck | | | | 25,000 | |
| Bryan Campanello | | | | 13,000 | 1,000 |
Fabio De Francesco

60,000

Jordan Siegel

55,000
1,700

Phil Hellmuth

BREINFUEL Team Ambassador

40,000

Kevin Iacofano

40,000
2,000
Level:

10
Limits:

800/1,600
Ante:

200