Day 2 of Event #35: $1,500 Pot-Limit Omaha Hi-Lo 8 or Better; Omaha Hi-Lo 8 or Better; Big O (5-Card PLO/8) is done and dusted at the 2018 World Series of Poker. The day started with 225 players and after another ten hours of play, just 31 players are left for Day 3. James Alexander has bagged the chip lead with 466,500 in chips to lead the field into the third day.
Alexander said the day has been a rollercoaster for him and his chip stack went up and down and then again. He started the day with 50,175 in chips and has been able to build quite the stack by the end of the day. His day started off well by winning a big hand against Jared Koppel to propel himself into the chip lead.
By the end of the day, it looked like Robert Mizrachi was going to end up with the chip lead, but right in the last couple of hands, Alexander managed to sneak up on Mizrachi and surpass his tablemate in the chip counts.
Mizrachi ended the day third in chips with 439,000, right behind Gabriel Ramos with 452,000 in chips. Out of the 5,797,500 chips in play, Alexander, Ramos and Mizrachi were able to win 1,375,500 of them, which gives them 23% of the chips in play with 31 players left in the tournament.
Other notable players that made it through on Day 2 include Ryan Hughes (276,000), Jon Turner (218,000), Carol Fuchs (215,000), Mark Gregorich (176,500), and Bart Hanson (35,000). At the start of the tournament, Hanson tweeted that this was his favorite tournament on the schedule this summer and he's making the most out of it. Hanson has been nurturing a short stack for most of the tournament but did manage to make it through to Day 3.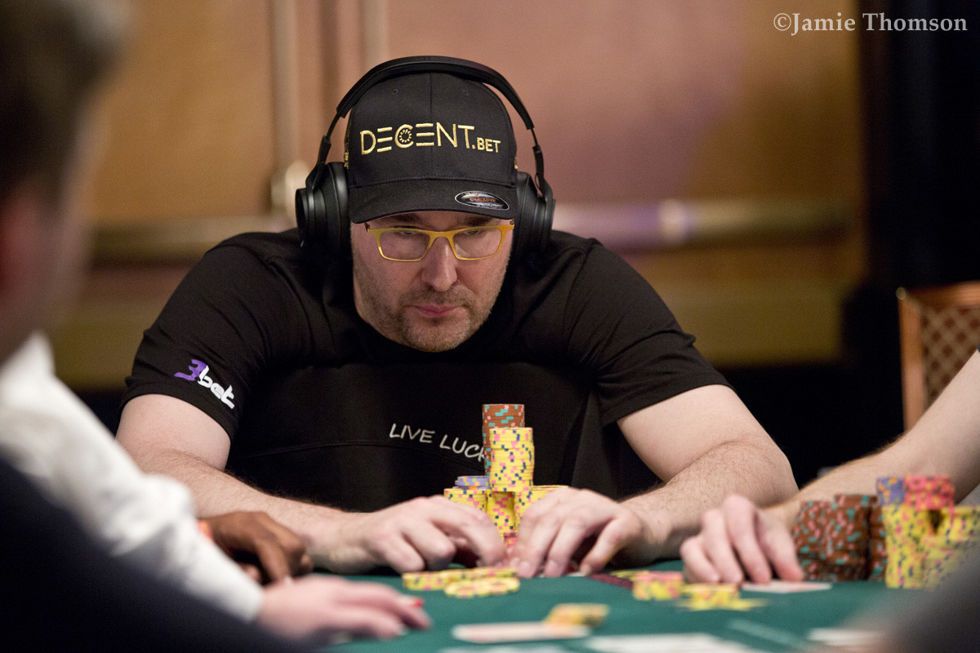 Darryll Fish is one of the players that showed up for Day 2 but wasn't fortunate enough to make it to the money. Dan Heimiller, Connor Drinan, Chris Ferguson, and Stephen Chidwick all busted out before the money was reached. Martin Staszko (103rd - $2,258), Andrew Barber (84th - $2,444), Calen McNeil (71st - $2,444), Max Pescatori (69th - $2,631), Barry Greenstein (53rd - $3,256), Erik Seidel (43rd - $3,741) and Phil Hellmuth (35th - $5,252) all did manage to make the money but they didn't survive Day 2.
14-time bracelet winner Hellmuth's stack got decimated in the final level of the day when he ran into Eddie Blumenthal's top set in Omaha Hi-Lo. Hellmuth had flopped middle pair and a straight draw a hand where Blumenthal accidentally opened with a call instead of an intended raise. Three bets went in on the flop and one on the turn. Hellmuth improved to inferior trips on the river, paid another bet of Blumenthal off and was shown the bad news.
"Are you f*cking kidding me? This goofball doesn't even know how to play and he's got all of the chips," Hellmuth fired as he bounced from his seat. Shortly after, Hellmuth's remaining chips vanished as well to end his attempt at bracelet #15 in 35th place.
On Monday, the tournament will continue with Day 3 at 2 p.m. The plan is to play down to a winner, but given the deep structure and still 31 players in the tournament it is very unlikely the tournament will come to a conclusion, and a fourth day will be needed to decide a winner.
Continue to follow along with the PokerNews live reporting team for all of the live updates throughout the event.