Event #9: $10,000 Omaha Hi-Lo 8 or Better Championship
Day: 3
Event #9: $10,000 Omaha Hi-Lo 8 or Better Championship
Day 3 Completed

Level 26 : 40,000/80,000, 0 ante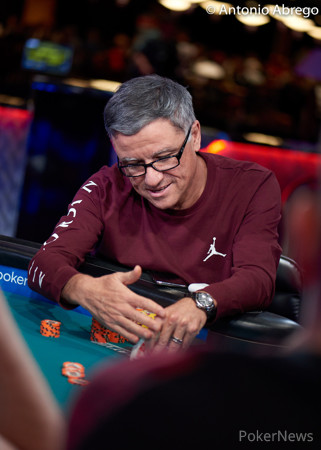 Only six players remain in Event #9: $10,000 Omaha Hi-Lo Eight or Better Championship and Eli Elezra continued his massive heater to bag up the chip lead once again after the third day of play. Elezra came in as the leader and he didn't let off the gas, winning pot after pot as the day chugged along.
There were 22 to begin the day but they started falling quick. First to go was Lars Gronning who got short and wasn't able to recover. He was followed by Daniel Alaei, Scott Bohlman, and Nikolai Yakovenko, who all collected $14,912 for their efforts in the event, bringing the field down to two tables.
Chris Bjorin found himself short stacked as the final two tables converged and he was the next out. He busted to Robert Mizrachi who turned a flush against Bjorin's inferior flush and the river counterfeited the Swede's low as well to send him to the rail.
Following Bjorin out was Felipe Ramos who lost a monster pot to Paul Volpe when the latter rivered the nut straight and Ramos mucked. His tournament ended when Elezra and Mike Matusow both made the nut straight and he wound up with just two pair.
After Ramos fell he was followed by Mike Gorodinsky, Dylan Linde, and Talon White all who hit the rail in quick succession. Steve Chanthabouasy dropped after that. Chanthabouasy came into the final two tables with a sizable stack but lost pots to many different players at the table, spreading his chips around. It was Russia's Viacheslav Zhukov who did the honors, flopping trips against Chanthabouasy overpair to send him to the rail.
Mike Matusow was the next to go. In Matusow fashion, he clawed through most of the day with a short stack, but got extremely short after misreading his hand in a big pot against Gorodinsky. He was unable to recover and eventually lost the rest of his chips to Zhukov as well when the Russian player flopped quads.
Jesse Martin (10th for $25,619) found himself short before the convergence of the final table and only lasted one hand before being quickly eliminated. Per Hildebrand (9th for $31,977) was next to go, followed by Dan Zack (8th for $40,715).
The last to fall was Robert Mizrachi (7th for $52,866). Mizrachi played a monster three-way pot on the final hand of the night with the nut flush draw and the second nut low, but bricked everything and his chips were split between Volpe and Elezra.
Mizrachi's elimination brought the field down to six and halted play for the night as this event will be live streamed on Wednesday. Players will return to Level 21 with limits of 40,000/80,000 with just three minutes left on the clock. Action kicks off at 2 p.m. and the plan is to play down to a winner. Zhukov, Volpe, and Elezra are all looking to add yet another bracelet to their collection so it's sure to be an exciting finale. PokerNews will have coverage of all the action so be sure to check back in.
| Seat | Player | Country | Stack |
| --- | --- | --- | --- |
| 1 | Dustin Dirksen | United States | 140,000 |
| 2 | Viacheslav Zhukov | Russia | 970,000 |
| 3 | Adam Coats | United States | 1,820,000 |
| 4 | Paul Volpe | United States | 1,600,000 |
| 5 | Kyle Miaso | United States | 1,275,000 |
| 6 | Eli Elezra | United States | 2,700,000 |
Level 26 : 40,000/80,000, 0 ante
Player
Chips
Progress

Eli Elezra

2,700,000

200,000

Adam Coats

1,820,000

120,000

Paul Volpe

1,600,000

340,000

Kyle Miaso

1,275,000

-225,000

Viacheslav Zhukov

970,000

160,000

Dustin Dirksen

140,000

-265,000
Level 26 : 40,000/80,000, 0 ante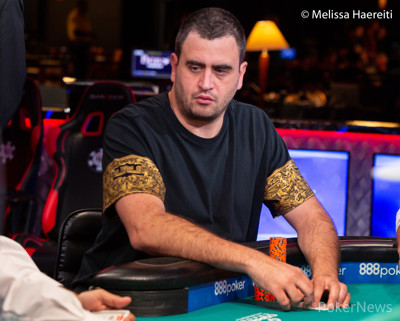 Paul Volpe raised early and got action from Eli Elezra and Rob Mizrachi in the cutoff and button, respectively.
The flop came
and Elezra bet. Mizrachi raised and Volpe called. Elezra made it three bets and everyone continued to the
.
Volpe checked, Elezra bet and Mizrachi raised again. Volpe called and Elezra again made it three bets. On the
river, Mizrachi's last crumbs went in, though we didn't see who bet.
Paul Volpe:

Eli Elezra:

Rob Mizrachi:
Volpe had the high half with trip deuces and Elezra made the nut low. Mizrachi was left busted after bricking the nut flush draw and making an inferior low.

Level 26 : 40,000/80,000, 0 ante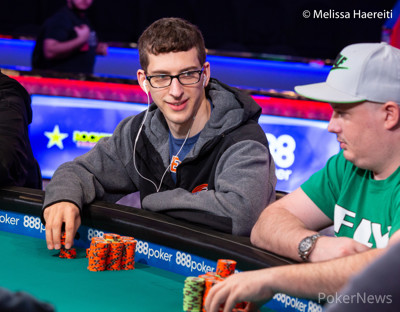 Dan Zack moved all in before the flop for 65,000 and action folded around to Eli Elezra who raised on the button. Both blinds folded so it was on to a showdown.
Eli Elezra:

Dan Zack:
The flop came down
and neither player improved. They didn't improve on the
turn either. The
came on the river and that gave Elezra the win with his ace-queen high.
Player
Chips
Progress

Eli Elezra

2,500,000

250,000

Daniel Zack

Busted
Level 26 : 40,000/80,000, 0 ante
Action folded to the small blind, where Adam Coats raised. Dan Zack defended big blind and the board ran out
with Coats firing every street. Zack called down and lost the showdown when Coats showed
for a wheel.

Level 26 : 40,000/80,000, 0 ante
Adam Coats opened with a raise and he was called by Dan Zack on the button and Kyle Miaso in the big blind.
The flop was
and action checked through. On the
turn, action checked through once more.
The river was the
and Miaso led out with a bet. Coats called while Zack got away. Miaso showed
for a flush and he took down the pot when Coats mucked.
Level 26 : 40,000/80,000, 0 ante
Paul Volpe defended big blind from a Kyle Miaso open under the gun. Volpe check-called on
and both checked the
. The river was the
and Volpe bet. Miaso called.
"Flush and a low," Volpe said.
"Me, too," replied Miaso.
Volpe's
was inferior on both counts to
and Miaso swept up the whole pot.

Level 26 : 40,000/80,000, 0 ante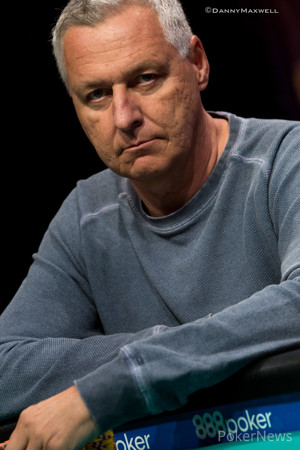 Action folded around to the button where Kyle Miaso raised. Per Hildebrand moved all in from the small blind and Eli Elezra called in the big blind. Miaso also called.
The flop came down
and action went check-check between Elezra and Miaso.
On the
turn, Elezra bet and Miaso called. The river was the
and Elezra bet again. Miaso found a fold this time. Elezra showed his
for a jack-high straight and Hildebrand tossed his cards into the center of the table, saying that he liked the flop before exiting the tournament area.
Level: 26
Limits: 40,000/80,000
Ante: 0