Hands #85-89: Four in a Row for Guilbert

Level 42 : 50,000-100,000, 100,000 ante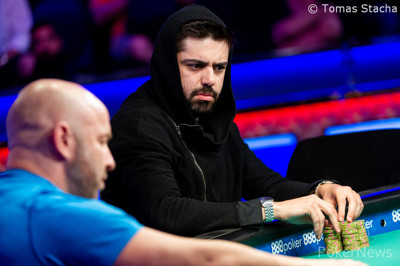 Hand #85: David Lambard raised to 200,000 and Johan Guilbert called to see the
flop. Guilbert checked and Lambard continued for 200,000, Guilbert check-raised all for 1,300,000 and Lambard asked for a count after giving it some consideration.
Lambard cut out calling chips, carefully checked his stack and folded.
Hand #86: Guilbert limped in and Lambard checked. There was no betting action on the
flop and the
came on the turn. Lambard checked again and Guilbert bet 220,000 to win the second hand in a row.
Hand #87: Lambard min-raised to 200,000 and Guilbert defended out of the big blind. On a
flop, Guilbert min-bet for 100,000 and Lambard called to see the
on the turn. Guilbert now made it 525,000 to go and claimed the third consecutive pot.
Hand #88: A limp by Guilbert resulted in a check from Lambard and the flop brought
, which went check, check. On the
turn, Lambard bet 200,000 and a call by Guilbert followed. The
river completed the board and Lambard checked, facing a bet of 100,000 after. Lambard folded and conceded the fourth pot in a row.
Hand #89: Lambard min-raised to 200,000 and Guilbert came along to a
flop, which he checked. Lambard continued for 250,000 and that won the pot.