Event #48: $2,500 No-Limit Hold'em
Day: 3
Event #48: $2,500 No-Limit Hold'em
Day 3 Completed
Level 29 : 50,000/100,000, 100,000 ante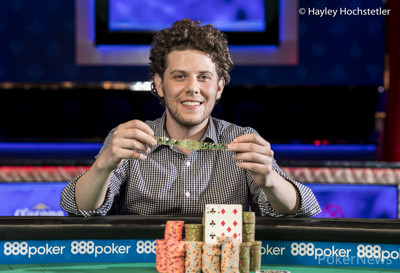 Ari Engel has emerged victorious from a field of 996 to take down Event #48: $2,500 No-Limit Hold'em and claim his first WSOP bracelet. With nine WSOP Circuit rings to his name and 15 years of WSOP experience, Engel had never bagged a bracelet at the World Series of Poker until today.
"Never give up," was his advice. "With us huge field no limit players, you play these expecting to win one in a lifetime. It's a relief to not mess it up, because usually, I mess it up." The self-deprecating champion acknowledged his able heads up opponent Pablo Joaquin Melogno, saying that when they reached the final table, he thought, "I'm going to try to get heads up with him and then he's going to win it."
That turned out not to be the case, as two huge hands in a row at the bitter end turned the tables on his experienced Uruguayan rival to hand Engel the $427,399 top prize and winner's jewellery. On how it felt to win such an event in a field dotted with prior champions, Engel said, "The competition in this was way tougher [than the Circuit]. It means more from the poker accomplishment perspective."
Final table results:
| Place | Player | Country | Prize |
| --- | --- | --- | --- |
| 1st | Ari Engel | Canada | $427,399 |
| 2nd | Pablo Melogno | Uruguay | $264,104 |
| 3rd | Wilbern Hoffman | United States | $186,392 |
| 4th | Ben Keeline | United States | $133,306 |
| 5th | David "Bakes" Baker | United States | $96,632 |
| 6th | James Hughes | United States | $71,010 |
| 7th | Truyen Nguyen | United States | $52,909 |
| 8th | Ryan Olisar | United States | $39,980 |
| 9th | Josh Arieh | United States | $30,643 |
Day 3 began with 24 players still in the running for the title, but there was a flurry of early eliminations including those of double bracelet winners Mark Radoja and Kristen Bicknell to condense the players, redrawn, onto two tables.
It was at this point that Baitai Li, chip leader since the end of Day 1, began to lose ground, with Engel (who busted Barny Boatman in 18th with kings vs. eights) and Ryan Olisar edging in front of him while every large pot that Li contested being shipped to someone else. Josh Arieh was also building stacks, taking two scalps in a row in level 22, cracking Gal Yifrach's queens with some quads-spiking pocket sixes to bust him in 17th, and then watching his overpair (jacks vs. tens) hold to send Jose Brito to the rail in 15th place ($15,058). Li himself ran ace-queen into the pocket kings of eventual finalist Truyen Nguyen to bust in 14th place.
Next to be eliminated was Michael Finstein (12th for $23,828) and as the final two tables' action slowed down approaching the final table bubble, Engel increased his chip lead, busting Pedro Marques with a fortunate
spiking a seven against his opponent's
. Just missing out on a place at the final table was Harald Sammer, sent packing in a huge three-way preflop all in in which Engel was involved but not victorious. The winner of that monster pot was Wilbern Hoffman, his aces seemingly cracked when Sammer flopped two pair with
only for a counterfeiting river pair to grant him a triple up. Hoffman sailed on to his first WSOP final, having only started playing poker last year.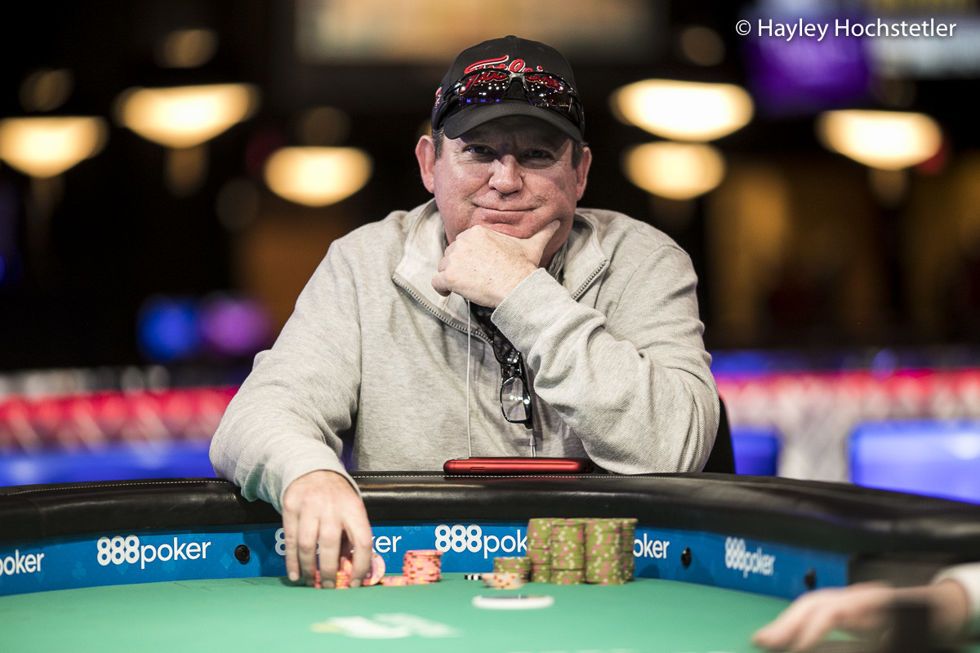 A third of the final table's competitors had already claimed a bracelet – in the case of Ben Keeline and David "Bakes" Baker, two apiece. Arieh's hopes of scoring the double were soon ended, however, when Ben Keeline (who had navigated his short-to-medium stack from the start of Day 3 all the way to the final) picked up kings when Arieh shoved with
and busted him in 9th. At this stage it was Melogno who increased his stack most steadily, recovering from the few losses with unflappable equanimity.
After Olisar lost his final flip with Engel to exit in 8th place ($39,980), his eliminator went on to claim four more scalps at the final, starting with Nguyen, again a huge flip pitting jacks against ace-king. Engel's jacks held; Nguyen picked up $52,909 for 7th. James Hughes, who had hung on with determination to a very short stack since the two-table period, finally got it in with
, given a spin by Keeline with
. A nine on the board sealed his fate and he exited in 6th ($71,010).
Engel returned to race-winning form, busting Baker in fifth when his pocket sevens held against Baker's overs as the latter announced his all in as if he was in a TV commentary booth. Bracelet-holder Keeline was eliminated in 4th soon after, collecting $133,306.
Action hardly slowed for a moment after this, with big pots traded between the final three players, none of them desperately short or willing to sit on their chips for long. It was Hoffman who finished in 3rd ($186,392), after a huge pot saw him all in on the turn with a flopped two pair against Melogno's straight and flush draws. The latter came in for Melogno, giving him a 3:1 chip lead going into heads up play.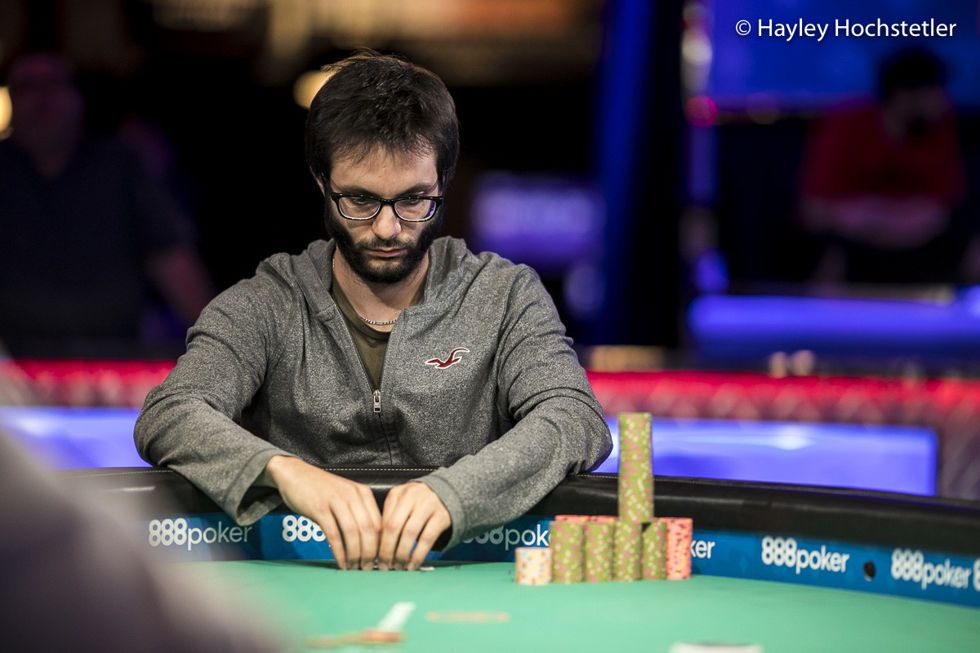 Engel won the first three pots in a row after the restart, the last one an enormous full double through which left Melogno playing just seven big blinds. Most of the chips in play went in the middle on a
flop, Engel making the final, largest bet with
and being called by Melogno with top pair –
. Engel turned a flush draw with the
turn but it was the card of the tournament for him on the river, the straight-completing
.
The very next hand Engel shoved his button with
, was called by Melogno with a dominating
but today belonged to Engel; he flopped a seven and it was all over. Melogno picked up $264,104 for second place, while Engel gained a bracelet, $427,399, and "confidence", if not for too long.
"I lose my confidence very easily so I should be good tomorrow, for at least one day," Engel said. His plans for the Series remain the same after his win, which many of his fellow players stated has been on the cards for a while now. "I sucked out so many times in this tournament, it's ridiculous," he noted, but luck is part of the game and today it was on the experienced Canadian's side.
Level 29 : 50,000/100,000, 100,000 ante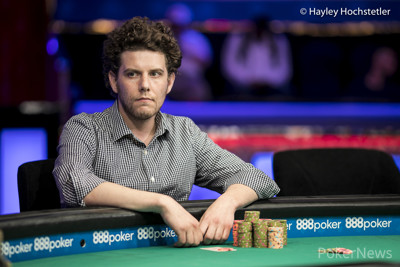 After that whirlwind heads up, Ari Engel has won his first WSOP bracelet and $427,399. A recap will follow; visit the Payouts tab for all finishing positions and prizes from this event.
Level 29 : 50,000/100,000, 100,000 ante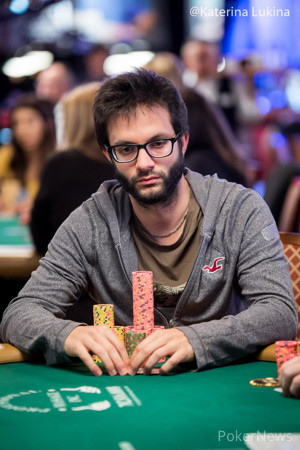 Hand #68: Immediately following the huge stack reversal of the last hand, Ari Engel set Pablo Melogno all in from his button for 700,000 total. Melogno made the call with a dominating
to Engel's
, but the board had other ideas, pairing Engel's seven right off the bat:
. In a shock about-turn lasting just two hands, Melogno finds himself pipped to the post for the bracelet while Engel takes down his first WSOP gold.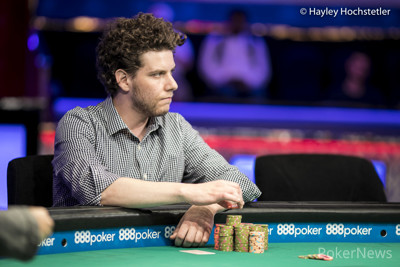 Hand #64: Ari Engel raised to 275,000 on the button and Pablo Melogno tank-folded his big blind.
Hand #65: Melogno opened to 225,000 and Engel three-bet to 825,000. Melogno called and the flop came
. Engel led out for 900,000 and Melogno called to see the
on the turn. Engel announced all in for 3,845,000 and Melogno was left shaking his head as he finally folded.
Hand #66: Engel made it 275,000 on the button and Melogno defended. The flop came
and the two players checked through to the
on the turn and the
on the river. Melogno turned over
for a straight and Engel mucked.
Hand #67: Melogno raised to 200,000 on the button and Engel re-raised to 800,000. Melogno called and the flop came
. Engel led out for 900,000 and Melogno slid out a raise to 2,085,000. Engel shipped all in for 6,220,000 and Melogno quickly called.
Ari Engel:

Pablo Melogno:
Melogno held the best hand but Engel had a straight draw. He also turned a flush draw on the
turn card and the
on the river gave Engel a straight. It was a massive pot for nearly all of the chips in play, leaving Melogno with just seven big blinds.
Level 29 : 50,000/100,000, 100,000 ante
Hand #62: Ari Engel made up the small blind and Melogno checked his option. Melogno check-called a bet of 200,000 on the
flop. The turn brought the
and Melogno switched it up, leading for 315,000. Engel pushed forward a raise to 1,450,000, and Melogno folded.
Hand #63: Melogno raised his button to 225,000, called by Engel. The flop saw Engel check, Melogno bet 205,000 and Engel check-raise to 660,000. Melogno made the call, but when Engel led out for 925,000, he gave up his hand.
Level: 29
Blinds: 50,000/100,000
Ante: 100,000
Level 28 : 40,000/80,000, 80,000 ante
Ari Engel and Pablo Melogno are heading on a regularly scheduled 15-minute break. They will return with the blinds at 50,000/100,000 with a 100,000 big blind ante.
Level 28 : 40,000/80,000, 80,000 ante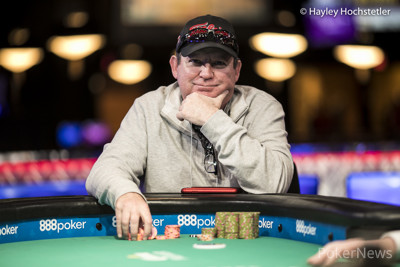 Hand #61: Pablo Melogno raised to 170,000 preflop; Wilbern Hoffman defended his big blind.
The flop:
. Hoffman checked, Melogno bet 185,000 and Hoffman quickly check-raised him to 500,000. After taking a look at his opponent's stack (over three million behind), Melogno made the call.
The turn:
. Hoffman led out for 1,250,000 and Melogno raised him all-in - he called in half the time it took for Melogno to raise and saw that his hand was ahead, but vulnerable:
Hoffman:
for a flopped two pair.
Melogno:
for the double draw of diamonds and straight.
"Black ace!" called Hoffman, but the deck denied his entreaty, giving Melogno the
instead, completing the flush.
Hand #56: Wilbern Hoffman limped in from the small blind and Pablo Melogno raised to 185,000 in the big blind. The flop came
and Hoffman check-called a bet of 95,000 from Melogno. The
landed on the turn and both players checked to the
on the river. Two more checks and Hoffman showed
for two pair to win the hand.
Hand #57: Melogno just called in the small blind and Ari Engel checked his big blind. The flop fell
and Melogno led out for 90,000. Engel called and the
landed on the turn.
Melogno fired another 305,000 and Engel still called. The river was the
and Melogno dropped in a bet of 380,000. Engel thought for a minute and called. Melogno rolled over
and Engel mucked his cards.
Hand #58: Melogno raised to 165,000 on the button and Hoffman defended. The flop came
and Hoffman check-called a bet of 185,000 from Melogno. The turn brought the
and Hoffman checked again. Melogno tossed in another bet of 580,000 and Hoffman check-raised to 1,580,000. Melogno looked back at his cards and flipped them to muck.
Hand #59: Engel made it 200,000 on the button and was called by both Hoffman and Melogno. The flop fell
and the action checked around to the
on the turn. Hoffman led out for 450,000 and both Melogno and and Engel folded.
Hand #60 Hoffman made it 200,000 to go and Engel called in the big blind. Hoffman bet 300,000 on the
flop when Engel checked to him, and that was good enough for the pot.
Player
Chips
Progress

Pablo Melogno

6,140,000

40,000

Wilbern Hoffman

4,850,000

1,815,000

Ari Engel

3,950,000

-1,150,000