Schulman Miraculously Survives

Level 22 : 12,000/24,000, 0 ante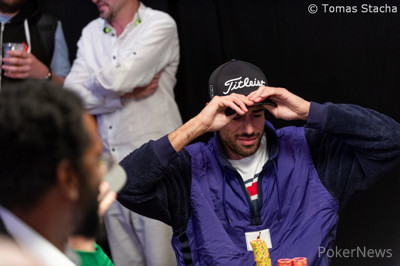 Ryan Miller raised to 55,000, Nick Schulman three-bet to 189,000 from the blinds and Miller called. The pair went through the motions on the
flop, where Schulman bet his last 69,000. Miller swiftly called.
Nick Schulman:

Ryan Miller:
Miller had completely crushed Schulman with that flop and the latter tapped the table in defeat, ready to make his way to the exit. However, the
turn and
river improved his hand to an improbable Broadway to win the hand.
"Whoa, where did that come from?!" his "homie" Bryce Yockey remarked.
Shortly after, Schulman was clashing with Miller again. After dropping in a small bet on a
board, Miller potted it to 197,000.
"Did you say pot?" Schulman inquired before diving deep into the tank. After several minutes, he shoved all in for 327,000 and Miller snapped him off.
Nick Schulman:

Ryan Miller:
"You do have it," Schulman softly said. Once again, there was an escape with the river bringing the
to give him a low for a chop.