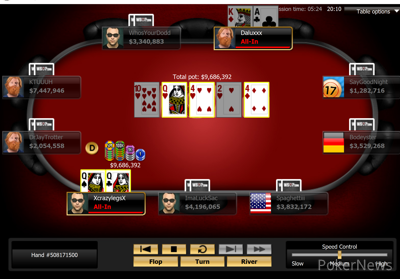 With blinds at 200,000/4,000,000/50,000, "Daluxxx" open-jammed for 3,554,584 from early position and Brian "XcrazylegsX" Frasca gave them isolation after he came over the top for 5,081,808 on the button.
"Daluxxx":

Brian "XcrazylegsX" Frasca:
Frasca was ahead and improved on the
flop but it did give "Daluxxx" a broadway draw.
The
turn brought chop outs but the
river secured "Daluxxx's" ninth place finish.
Player
Chips
Progress

Brian "XcrazylegsX" Frasca

9,686,392

3,944,584

Daluxxx

Busted