It took just five hours for the final day of Event #19: $840 6-Handed Bounty No-Limit Hold'em to conclude, having another champion here in the 2021 GGPoker WSOP Online Bracelet Events. Just 21 of the original 2,053 entries returned for the final day, and when the last chance saloon had closed for business it was Andrii Derzhypilskyi reigning supreme, pulling in $154,322 in total prize along with his first WSOP bracelet.
Derzhypilskyi began the day as a top-five stack and showed that he wasn't afraid to throw his stack around early. A run of cards helped Derzhypilskyi eliminated three in a row, setting the scene for the last seven and the Ukrainian pro was atop the leaderboard. Little resistance from the table saw Derzhypilskyi face, the start of day chip leader, Luciano Hollanda in heads-up.
The average stack seemed shallow throughout the day and the play during saw many preflop shoves. But once heads-up began it was a whole new ball game and the two had a back-and-forth battle for well over an hour. Hollanda came out swinging, but after multiple lead-changes it was Derzhypilskyi who had the last laugh during a classic flip when his ace-king connected to top the fives of Hollanda, sending home as the runner-up for an $88,466 in total prize money.
Final Table Results in Event #19: $840 6-Handed Bounty No-Limit Hold'em
| Place | Winner | Country | Bounty Total | Prize | Total Cash (in USD) |
| --- | --- | --- | --- | --- | --- |
| 1 | Andrii Derzhypilskyi | Ukraine | $87,372 | $66,950 | $154,322 |
| 2 | Luciano Hollanda | Brazil | $21,681 | $66,785 | $88,466 |
| 3 | Silvio "valterzao" Costa | Portugal | $32,774 | $49,448 | $82,222 |
| 4 | Eder "BlueMoon" Campana | Brazil | $15,650 | $36,568 | $52,218 |
| 5 | Ivan "Im44bet" Ciursin | Moldova | $3,050 | $27,042 | $30,092 |
| 6 | Kelvin Kerber | Brazil | $2,150 | $19,998 | $22,148 |
| 7 | Karolis "Internecik" Sereika | Lithuania | $5,661 | $14,789 | $20,450 |
Costa Plummets to Set Up First Bracelet for Derzhypilskyi
The final table saw Silvio "valterzao" Costa quickly emerge as the captain, dropping the first three players from the field with ease as Karolis "Internecik" Sereika, Kelvin Kerber, and Ivan "Im44bet" Ciursin all fell to the wayside. Costa was running over the final table but all momentum completely vanished when Hollanda dropped Kelvin Kerber from the table, setting up three-handed play.
Quickly Hollanda and Derzhypilskyi dismantled Costa, taking him down piece by piece until he finally put his last chips in with king-queen, only to see Derzhypilskyi table a pair of aces. The clean board sent final table terror back to the underground, setting up heads-up between Hollanda and Derzhypilskyi.
Hollanda was at a deficit, but quickly clawed back and the two had a heated match for well over an hour. The Brazilian had Derzhypilskyi on the ropes but coughed up the lead on a failed bluff attempt and the eventual champ never gave it up. The final hand saw Derzhypilskyi pounce with ace-king onto the pocket fives of Hollanda, landing two pair for Derzhypilskyi which was good for the win, pulling in $66,950 for his victory, plus $87,372 in bounties for a total of $154,322, and let's not forget about his first coveted piece of WSOP jewelry.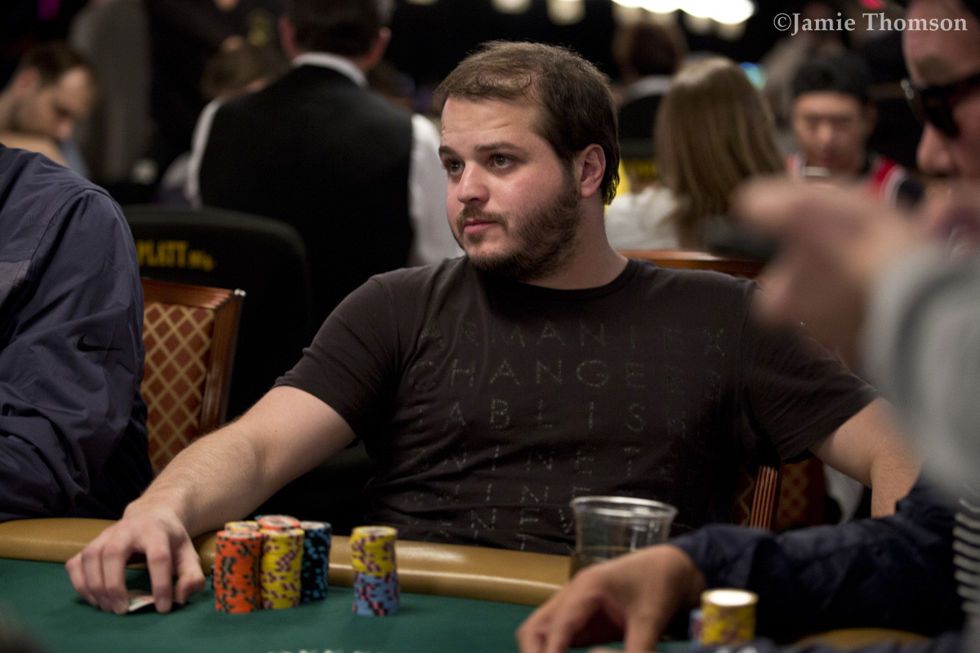 Congratulations to Derzhypilskyi on his victory and that wraps it up for the final day of Event #19: $840 6-Handed Bounty, but tune in tomorrow for all of the action in Event #20: $1,500 MONSTER STACK NLH [Freezeout].