Event #29: $10,000 Short Deck No-Limit Hold'em
Day: 3
Event #29: $10,000 Short Deck No-Limit Hold'em
Day 3 Completed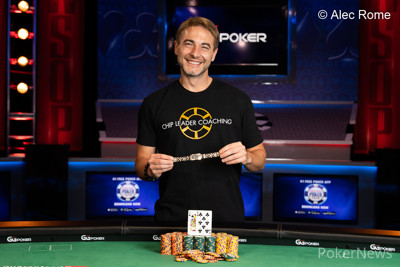 Chance Kornuth claimed his third World Series of Poker (WSOP) gold bracelet after winning Event #29: $10,000 Short Deck No-Limit Hold'em for the $194,670 top prize at the Rio Convention Center.
His first came in 2010 when he won Event #50: $5,000 Pot-Limit Omaha. His second was just three years ago in Event #63: $3,200 WSOP.com ONLINE No-Limit Hold'em High Roller where he took first place and $341,599 for his efforts.
He joins an elite club of players and was obviously delighted. "It feels great. Also, the fact that during the last WSOP I finished fourth in this was really good to get a little redemption," Kornuth said with his trademark smile on his face.
While heading into the final table as the chip leader, the previous close call in this very specific tournament format was in the back of his mind for just a short period, he admitted.
"It only crossed my mind once when there were like three players left. Ah, I improved on last year! But obviously, anything other than first was going to be somewhat disappointing. I am not great at the game by any means but still very competitive and wanted to do my best. Fortunately, things went my way today," Kornuth added.
Kornuth conquered a field of 66 players and a final table including Dan Shak, Chad Campbell, and Joao Vieira.
Event #29: $10,000 Short Deck No-Limit Hold'em Final Table Results
| Place | Winner | Country | Prize (in USD) |
| --- | --- | --- | --- |
| 1 | Chance Kornuth | United States | $194,670 |
| 2 | Chad Campbell | United States | $120,316 |
| 3 | Dan Shak | United States | $82,678 |
| 4 | Moshe Gabay | Israel | $58,601 |
| 5 | Joao Vieira | Portugal | $42,885 |
| 6 | Thomas Kysar | United States | $32,437 |
The game of short deck has a very special appeal to Kornuth: "You get to play so many hands, and you get to play aggressively, you always have equity and it's just fun. You can think of a lot of concepts of No Limit and PLO, which are my two best games, and a lot of them apply here like range advantage and stuff like that," the freshly minted three-time WSOP bracelet winner said.
Kornuth was certainly one of the most aggressive players throughout the tournament and especially as of the final three tables onwards. The only other player who seemingly reached the same heights of activity during the late stages was eventual runner-up Campbell. Both clashed numerous times even before the money bubble had burst and continued the duel quite frequently.
At some point, it seemed inevitable that both would be the last two contenders to battle for the coveted gold bracelet, as they entered the six-handed final table first and second in chips.
"If anything was meant to be you can say that but I wouldn't say that I believe in that kind of thing in general," Kornuth joked.
One thing in particular stood out during the last two tournament days. While Campbell was involved in the action a lot of times, he always acted very quickly and barely ever took the full 30-second shot clock compared to the vast majority of his opponents. The only time Campbell had to tank was typically when Kornuth put him to the test with alternating betting patterns of his own.
"He played very well and super unpredictable. Maybe if I had like king-jack in that hand or something instead of a full house, I would have folded because I really thought he had a straight. Power to him, he is a really tough opponent," Kornuth mentioned and referred to the hand that sealed his victory.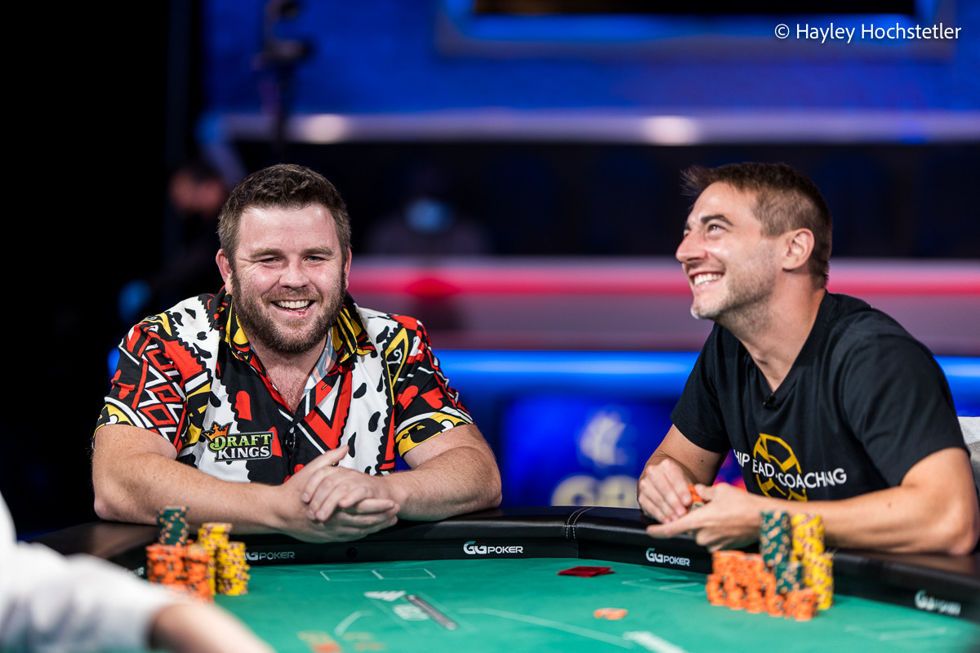 While Kornuth had his laser-like focus on during the hands, the jovial banter and table chat recommenced as soon as the action was over. "In the hand, I am your worst enemy and when we are not in the hand we can be buddies and chat as much as we want," the latest bracelet winner of the 2021 WSOP concluded. He plans on playing a full schedule for the rest of the series and is full of confidence, which comes as no surprise after his latest victory.
"I am playing some of my best poker for the last six months and I really want to continue to do so and see what I can accomplish," Kornuth concluded.
The Action of the Final Day
Kornuth and Campbell were the runaway chip leaders when the action recommenced on the PokerGO live-streamed final table and the stack of Kornuth grew further when he claimed the first three pots of the day. That included the elimination of Thomas Kysar, who found no help with jack-ten against the pocket queens of Kornuth.
After that, however, it was Campbell who dominated the action. First denied the knockout when ace-king chopped with kings despite an ace in the window, he then took another flip against Joao Vieira. This time, ace-king was up against pocket jacks and both overcards sealed the fate of the Portuguese poker pro in fifth place.
The action never really slowed down and most hands concluded within two minutes at the utmost. One of them saw the preflop contest between Moshe Gabay and Dan Shak. Gabay had the best of it with pocket aces versus pocket jacks but Shak turned a straight flush to bring the field down to the final three.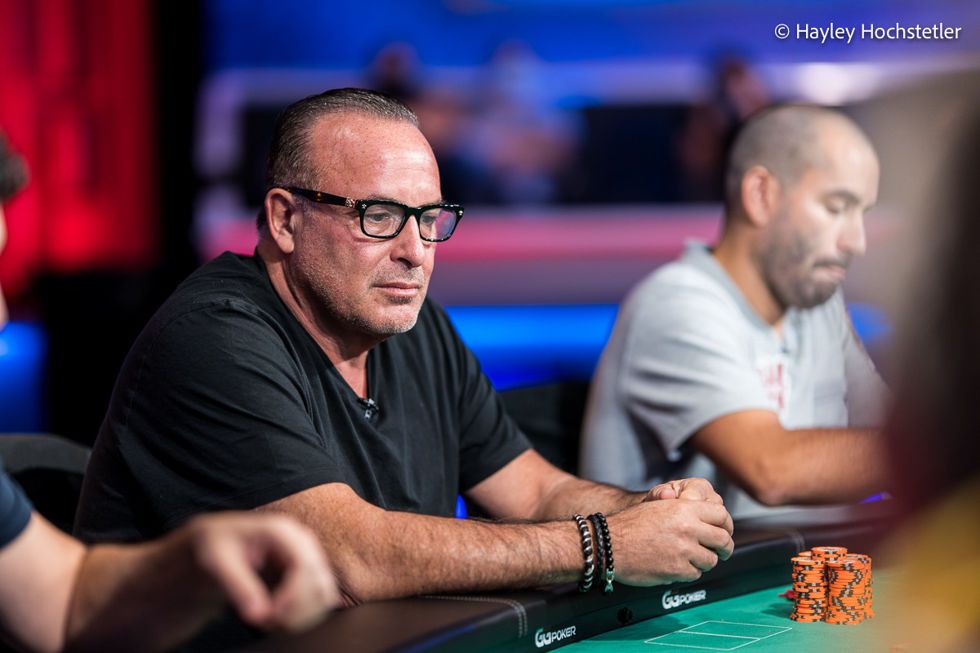 Kornuth dropped back to the shortest stack thereafter but bounced back with a well-timed all-in move against Campbell to regain the lead. Shak was not successful when he got it in with jack-ten against the ace-king of Kornuth. An ace in the window solidified the lead of Kornuth and he dodged a gutshot to enter heads-up as the chip leader.
The duel for the gold bracelet culminated in a big clash in which Kornuth flopped a full house and the open-ended straight draw of Campbell had zero equity. Only minutes after his runner-up finish, Campbell jumped right back into the next event while Kornuth was busy with the winner shots and interviews. But the win didn't end Kornuth's day. He quickly joined the field in Event #30: $1,500 Monster Stack No-Limit Hold'em just after.
That concludes the PokerNews coverage for this event but the live updates for several other currently ongoing bracelet events can be found in the 2021 WSOP festival hub.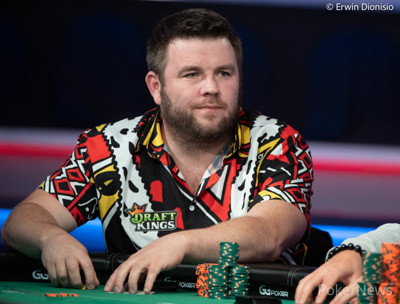 The next limped flop led them to the
flop on which Chad Campbell bet 30,000. Chance Kornuth opted for a raise to 110,000 and Campbell stuck around. They headed to the
turn and Campbell checked. Kornuth now bet 225,000 and Campbell moved all-in for 1.27 million within four seconds.
Kornuth snap-called and the cards were turned over.
Chad Campbell:

Chance Kornuth:
Campbell was drawing dead against the flopped full house of Kornuth and the
river didn't matter, ending his run in 2nd place for $120,316.
Chad Campbell forfeited a raise to 100,000 after check-folding a queen-high flop. A few hands later he limped in and Chance Kornuth checked behind. On the
flop, Campbell check-called for the minimum and the
turn was checked.
After the
river, the action checked once more and Kornuth won the pot with
as he beat the busted straight draw of Campbell.
The next hand saw Chance Kornuth with an open raise to 75,000 and Chad Campbell came along to then call a bet worth 100,000 on the
flop. They checked down the
turn and the
river brought another bet worth 125,000 by Kornuth. Campbell considered his options for a while and let go.
Chance Kornuth limped in and Chad Campbell checked his option. On the
flop, Kornuth check-called for 50,000 and checked again the
on the turn. Campbell now made it 225,000 to go and Kornuth sent his cards into the muck.
Campbell raised to 100,000 next for Kornuth to defend the button. They headed to the
flop on which Campbell bet 100,000 and Kornuth called. The
turn brought another bet worth 500,000 by Campbell and Kornuth gave his opponent a stare down for 25 seconds before releasing the cards into the muck.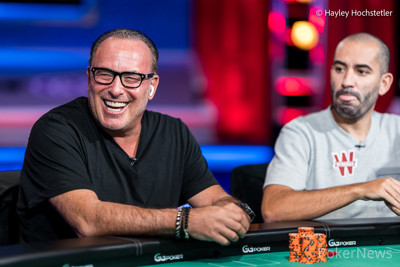 Chad Campbell folded and Chance Kornuth raised to 90,000 in the cutoff. Dan Shak then jammed for 456,000 and Kornuth snap-called.
Dan Shak:

Chance Kornuth:
The
flop gave Kornuth the top pair while Shak had a gutshot. Nothing changed on the
turn and the
river ended Shak's run in third place.
Chad Campbell limped in and then called a raise to 90,000 by Chance Kornuth in the cutoff. The flop fell
and Campbell check-called for 50,000 to then check-call once more for 100,000 on the
turn. Both decisions by Campbell were made within three seconds.
On the
river, Campbell checked the third street in a row and Kornuth fired a bet of 285,000 to eventually send his table neighbour into the tank. He then called and Kornuth flipped over the
for a full house to regain a solid lead.
Level: 19
Blinds: 0/0
Ante: 12,000
The remaining three players are on a short break of approximately five minutes.