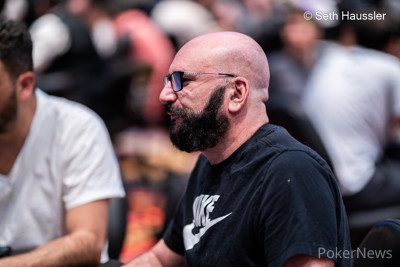 Seven Card Stud Hi-Lo
Mike Matusow:
/
/

Jordan Siegel:
/
/

Jeff Madsen:
/
/
After folding in the previous hand, Mike Matusow was all-in for the last 5,000 on third street and he earned calls from Jordan Siegel and Jeff Madsen. Without further ado, the two active players checked it all the way down. Matusow had a pair of aces until sixth and failed to improve, while Siegel's two pair, sevens and treys, ended up as the winning hand.
Matusow also bricked his low draw as well and became the bubble boy of the event.