Event #46: $500 No-Limit Hold'em Freezeout
Day: 2
Event #46: $500 No-Limit Hold'em Freezeout
Day 2 Completed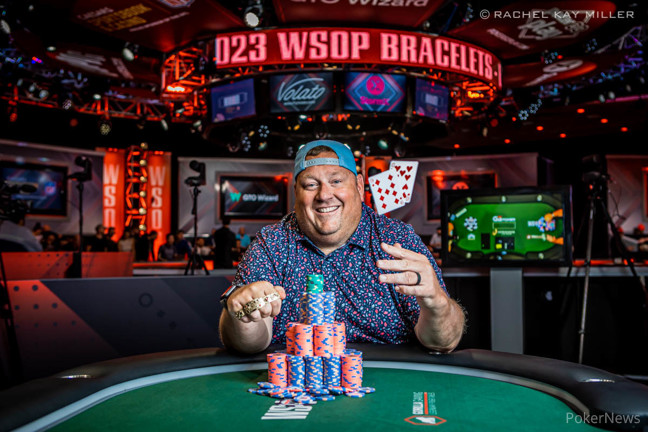 Event #46: $500 No-Limit Hold'em Freezeout at the 2023 World Series of Poker at the Horseshoe and Paris Las Vegas attracted an enormous field of 5,342 runners, all hoping to capture a WSOP gold bracelet.
The majority of those hopefuls fell by the wayside on Day 1, with just 241 advancing to the second and final day. On Day 2 after nearly 12-hours of play, Austin, Texas native Jay Lockett was the only one left standing, having defeated Jie Fu in a short lived heads-up match to claim the $262,526 first place prize and the honor of being able to call himself a bracelet winner.
Incredibly, this was Lockett's second ever live tournament cash, with his only other score a $1,900 prize for cashing in the $600 Deepstack event at the 2021 WSOP.
"This wasn't supposed to happen" an emotional Lockett said after the win. "I was dead money coming in... This is amazing. You have to run so hot. I had quads twice at the final table. I had ace-queen that ended up beating ace-king earlier" he continued. Although luck was certainly on his side, in the end Lockett made a number of plays to help him get over the edge and is a deserving winner.
Event #46: $500 No-Limit Hold'em Freezeout Final Table Results
| Position | Name | Country | Prize |
| --- | --- | --- | --- |
| 1 | Jay Lockett | United States | $262,526 |
| 2 | Jie Fu | United States | $162,207 |
| 3 | Diego Acquila | Argentina | $121,085 |
| 4 | Matthew Thom | United States | $91,066 |
| 5 | Muaaz Gani | South Africa | $69,007 |
| 6 | Byambajav Bandi | United States | $52,690 |
| 7 | Shannon Boone | United States | $40,540 |
| 8 | David Hirst | Australia | $31,433 |
| 9 | Ibrahim Tarim | Turkey | $24,562 |
Coming into the day, the average stack depth was at a shallow 25 big blinds and only got shorter from there. As a result, action was fast and furious with the final table of nine set after only eight hours. Nicholas Ronalds was the unfortunate player to fall just shy of that mark after losing a classic race with queens against the big slick of Muaaz Gani.
Final Table Action
Ibrahim Tarim was a short stack for much of the latter stages of the day so it was not surprising to see him fall first at the final table when his pair of threes came up short against Fu's sixes.
Next to go was Australian David Hirst, who only entered the event after the airline he was traveling on lost his luggage. Unlike Steve O'Dwyer, it is likely he will not be too upset with those responsible for the misplaced items.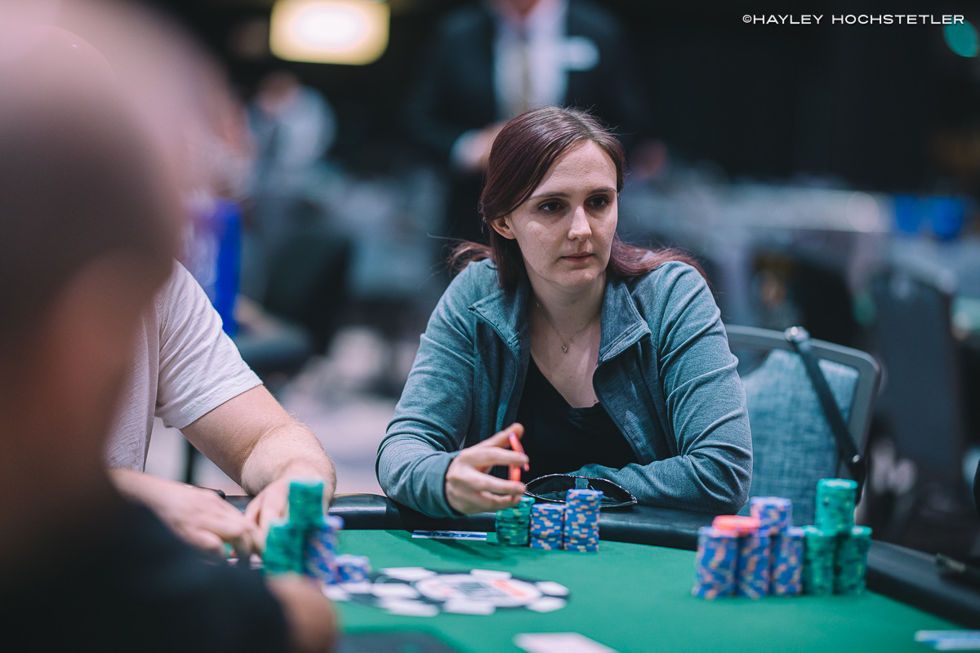 The last woman standing, Shannon Boone, fell in seventh place after getting it in on the flop with a flush draw against Fu's sevens but failing to connect.
Byambajav Bandi demonstrated a good deal of patience while making several pay jumps but did end up hitting the rail with his top pair outkicked by Gani.
It was Gani who was next to be sent to the payout desk when his fours were crushed by the sixes of Lockett. Not long after, Matthew Thom hit the showers in fourth place, his flopped top pair outdrawn by Fu, who at that point had started to put some distance between himself and the rest of the field.
Diego Acquila had quietly stuck around, avoiding big pots for the most part and as a result was able to lock up a six-figure score by making it to three-handed play. His luck did run out when a seemingly invincible Lockett went runner-runner to make a straight. That elimination setup a heads-up showdown between Lockett and Fu, with the former, courtesy of making quads against Fu a few hands earlier, entering with a 2:1 chip lead.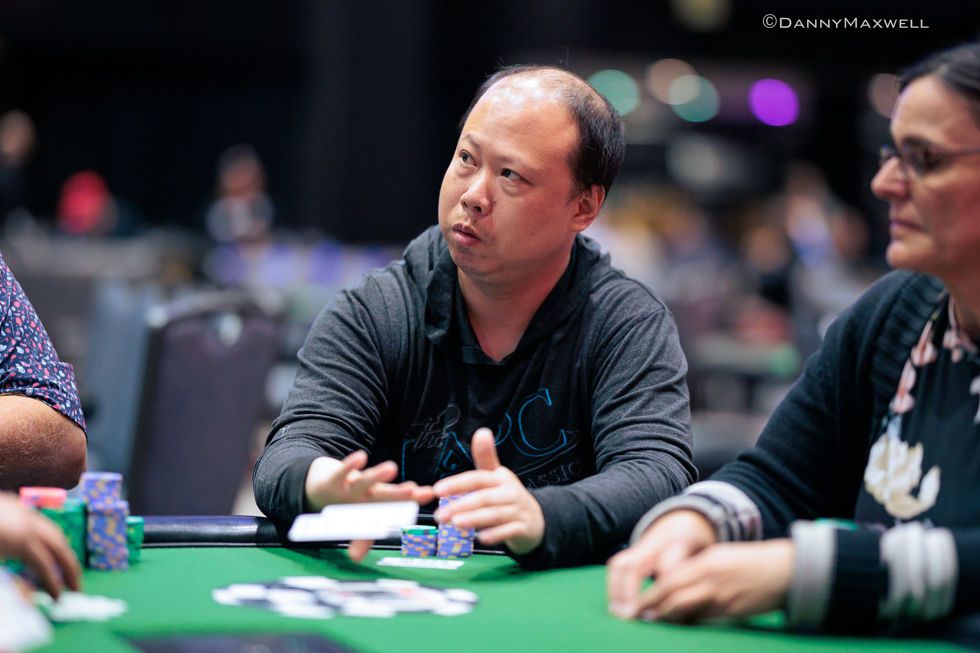 It did not take long for Lockett to prevail when Fu bricked on straight and flush draws against Lockett's pair. Although he will no doubt be disappointed at coming up just short, Fu does walk away with $156,773, not bad for a $500 investment.
Lockett, meanwhile, was left with a look of disbelief at his incredible accomplishment. Congratulations to Jay Lockett on winning Event #46: $500 No-Limit Hold'em Freezeout!.
Be sure to stay tuned to PokerNews as its live reporting team continues to provide comprehensive coverage of all bracelet events at the 2023 World Series of Poker at Horseshoe and Paris Las Vegas.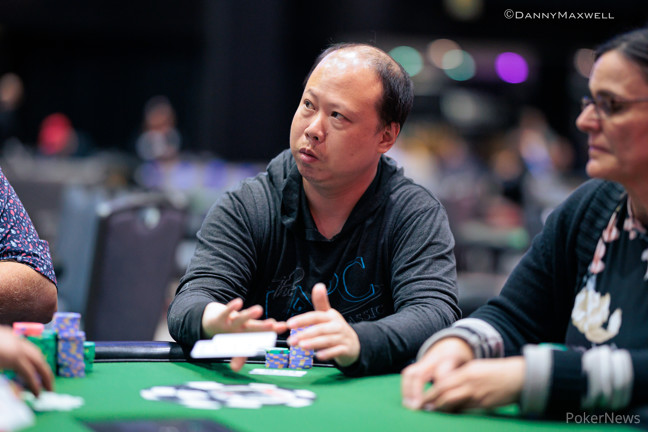 On a board reading J♥8♣10♦, Jie Fu was facing a bet of 5,000,000 from Jay Lockett. Fu did his signature move by standing up and declaring himself all in. After some time Lockett made the call and Fu saw some bad news.
Jie Fu: 9♣4♣
Jay Lockett: 10♥9♦
Both players had an open-ended straight draw, but Lockett had a pair to go with it. When the A♣ turned, Fu was rooting for a club to come, as it was his only chance to scoop. When the 10♠ hit the river, Lockett burst into celebration this time, knowing he had just locked up the gold bracelet.
Congratulations to Jie Fu who had a spectacular run in this massive field.
Jie Fu limped on the button and Jay Lockett checked his option in the big blind.
Lockett checked on the 4♦9♦4♠ flop and then called when Fu bet.
Action checked through the 3♥ turn to the 7♠ river at which point Lockett counted out a bet of 10,000,000. Fu quickly called but was forced to concede the pot after Lockett turned over Q♥4♥ for trips.
Level 41 : Blinds 1,000,000/2,000,000, 2,000,000 ante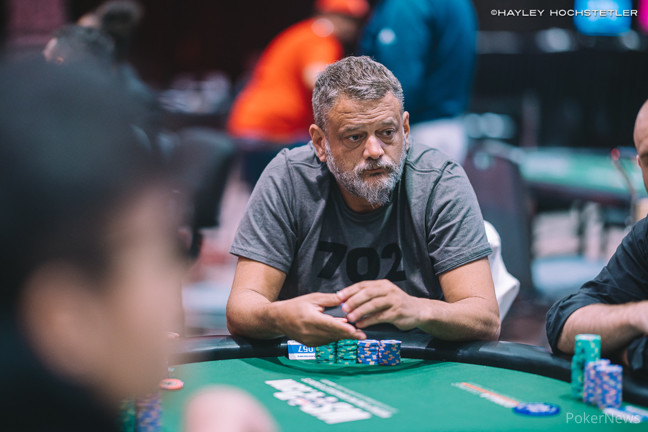 Diego Acquila moved all-in with the shortest stack at the table and was called by Jay Lockett in the big blind.
Diego Acquila: K♣2♦
Jay Lockett: A♣7♥
Acquila would need to catch up, which is what he did on the K♦5♠3♦, but the 4♦ turn would give additional outs to Lockett and one of those outs hit the river in the form of the 6♥, to make Lockett a straight and send Acquila home with a six-figure pay-day.
Jie Fu opened on the button and was called by Jay Lockett in the big blind.
Lockett checked on the A♦8♦Q♣ flop before calling a 2,000,000 continuation from Fu.
Action checked through the 8♥ turn to the 8♣ river at which point Lockett moved all in. Fu snapped it off, showing A♠9♣ for a full house but could not beat the K♠8♠ of Lockett, who has enjoyed two profitable hands with quads in the space of half an hour.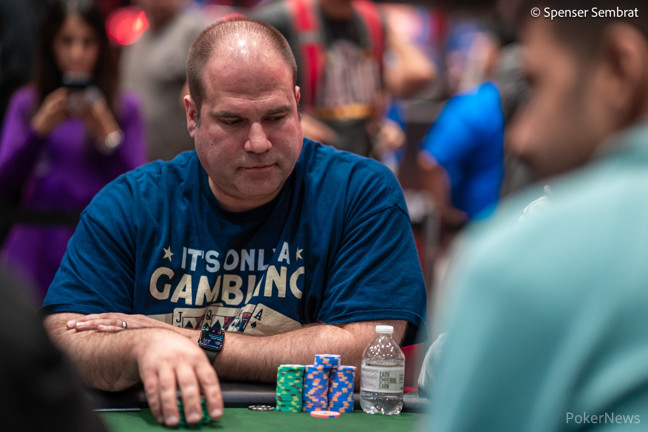 Matthew Thom went all in and Jie Fu stood up and animatedly made the call. The blinds folded and Thom was at risk.
Matthew Thom: K♣J♠
Jie Fu: A♦10♦
Thom saw the bad news but his two live cards still had a decent chance. The K♦5♥7♥ flop pulled Thom ahead but Fu was tenaciously calling for an ace, but when the 10♠ turned, he added a ten or an ace to his chant. The poker gods obliged and a 10♣ peeled off the river, giving Fu trips to beat Thom's pair of kings.
Jay Lockett and Diego Acquila shook Thom's hand while Fu celebrated the river.
Level: 41
Blinds: 1,000,000/2,000,000
Ante: 2,000,000
Jay Lockett opened to 3,500,000 from under the gun and was called by Jie Fu on the button.
Lockett checked following the 3♠A♦K♣ flop and then called after Fu bet 1,500,000.
The K♥ turn saw Lockett check again before once more calling when Fu fired another barrel of 1,800,000.
Action went check-check on the K♦ river and Lockett tabled A♥K♠ for rivered quads to take down the pot.
Level 40 : Blinds 1,000,000/1,500,000, 1,500,000 ante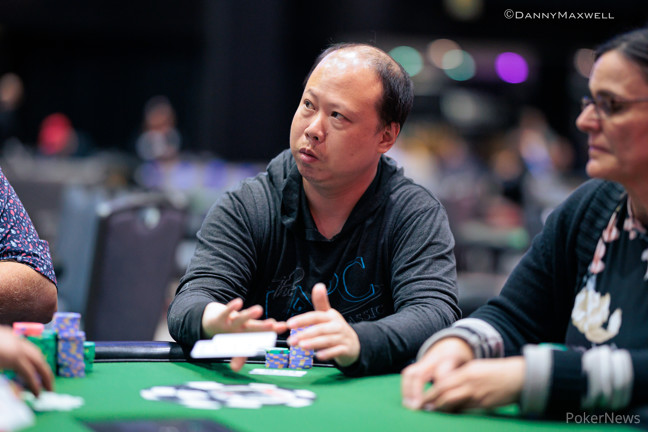 Jie Fu raised to 3,200,000 from early position and was called by Matthew Thom in the small blind and Jay Lockett in the big blind.
Both Thom and Lockett check-folded to a bet from Fu for 2,700,000 on the 3♠K♠4♦ flop.
Player
Chips
Progress

Jie Fu

63,000,000

63,000,000

Jay Lockett

26,000,000

-9,500,000

Matthew Thom

24,000,000

-3,500,000