Event #9: $1,500 Seven Card Stud
Day: 3
Event #9: $1,500 Seven Card Stud
Day 3 Completed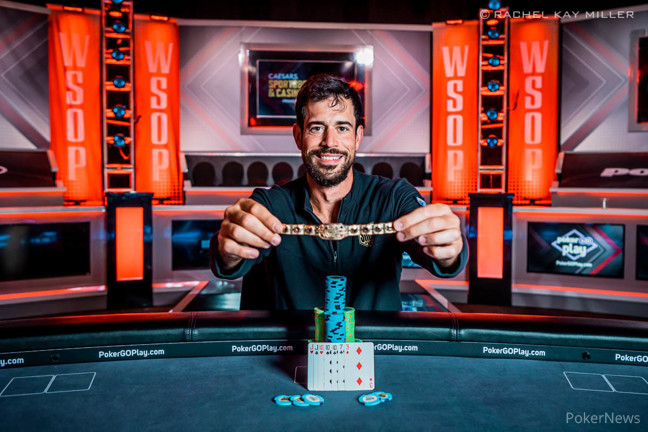 Event #9: $1,500 Seven Card Stud has come an end with Nick Schulman emerging victorious after besting a star-studded final table and defeating Andrew Hasdal heads up for his fourth World Series of Poker bracelet and $110,800 first-place prize.
Schulman is no stranger to poker success, having amassed over $15 million in career-tournament earnings dating back to 2005 when he burst into the poker scene after winning the World Poker Tour World Poker Finals at the age of 21 for over $2 million in prize money.
Schulman's victory highlights his versatility in poker, having won two Deuce-to-Seven Lowball bracelets and a Pot-Limit Omaha Hi-Lo 8 or Better back in 2019 before adding his fourth tonight.
Event #9: $1,500 Seven Card Stud Final Table Results
| Place | Player | Country | Prize |
| --- | --- | --- | --- |
| 1 | Nick Schulman | United States | $110,800 |
| 2 | Andrew Hasdal | United States | $68,479 |
| 3 | Hojeong Lee | United States | $46,912 |
| 4 | John Monnette | United States | $32,828 |
| 5 | Shaun Deeb | United States | $23,476 |
| 6 | DJ Buckley | United States | $17,166 |
| 7 | Tim Frazin | United States | $12,839 |
| 8 | Tab Thiptinnakon | United States | $9,829 |
| 9 | Bruce Levitt | United States | $7,706 |
Winner's Reaction
Following his victory, Schulman admitted that his cash game days are mostly over for now as he would prefer to focus on his four-year-old daughter, but he still plans on playing tournaments.
"Four [bracelets] means a lot. It's not lost on me that I've accomplished some things, and I'm still here. It means a lot," Schulman said.
"I love Stud," Schulman said when asked how he feels about the game. "It's probably my favorite game, and I've always kind of thought it was my best game. I grew up playing it."
Schulman, who navigated the final table with a cigar in hand, said it was an homage to the old school.
"I just decided to throw it back for the Stud," Schulman said. "An homage...you know — let's play fast and have some fun."
Looking forward, Schulman said he plans to put in more volume this WSOP.
"I'd love to win two [bracelets]," Schulman said. "Who doesn't wanna, you know, just rattle off bracelets and win Player of The Year and all that? I just wanna stay focused."
Final Day Action
The day began as an unofficial final table of nine and saw Bruce Levitt, who came in as one of the short stacks, get eliminated within the first level of the day to reach the official final table of eight.
Tab Thiptinnakon and Tim Frazin were both knocked out early on, despite Frazin finding two double-ups on the final table before his elimination.
Schulman began building some momentum after eliminating DJ Buckley and then doubling up through the then chip-leader John Monnette six-handed.
Shaun Deeb fell short of earning his sixth WSOP bracelet after getting all in with two pair and losing to Monnette's wheel on seventh street.
From that point on, Schulman continued to add to his stack and ended up eliminating both Monnette and Hojeong Lee in fourth and third place, respectively.
Schulman began his heads-up battle against Hasdal with a nearly two-to-one chip advantage but would end up in a grueling battle that saw Hasdal double up through Schulman several times. At one point, Hasdal battled his way into a more than two-to-one chip lead over Schulman, but Schulman pulled back to nearly even after winning a large pot that saw Hasdal fold on seventh street.
Hasdal's stack continued to trend downward, and he got all in again versus Schulman as a big underdog. However, Hasdal made a runner-runner full house against Schulman on sixth and seventh street respectively to stay alive once more.
Not to be denied, Schulman battled back and managed to whittle Hasdal down with ever-escalating antes and limits forcing the action. Despite his valiant effort, Hasdal met his end after getting all in with a flush and straight draw against Schulman's two pair that ended up becoming a full house on seventh street to secure Schulman's victory.
That concludes PokerNews' coverage of Event #9: $1,500 Seven Card Stud. But be sure to stick with PokerNews for continued coverage of the 2023 World Series of Poker.
Check out PokerNews' schedule for links to live coverage of other WSOP bracelet events from the Horseshoe and Paris Las Vegas.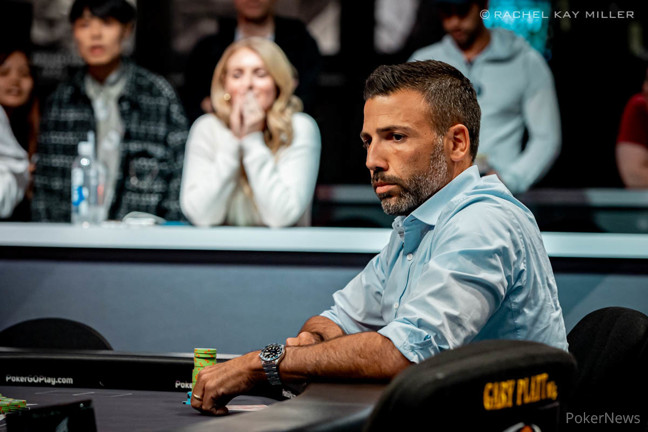 Andrew Hasdal: K♦8♣/J♣Q♣A♣8♥/Q♥
Nick Schulman: J♦10♥/10♦3♥J♥7♣/10♣
In what would be the final hand of the tournament, Andrew Hasdal completed and Nick Schulman raised. Hasdal called and then both players checked on fourth street.
Hasdal bet on fifth street and Schulman raised. Hasdal went all in for his remaining stack and Schulman called to put Hasdal at risk.
Hasdal held a draw to a straight and flush, but was behind the two pair of Schulman.
Schulman hit the 10♣ on seventh street — securing his victory with a full house and eliminating Hasdal in second place.
Several recent small pots have been going Nick Schulman's way and he has extended his lead to seven million chips to Andrew Hasdal's two million in chips.
Level: 35
Ante: 75,000
Bring-In: 100,000
Completion: 300,000
Limits: 300,000-600,000
Nick Schulman and Andrew Hasdal are now on a 10-minute break.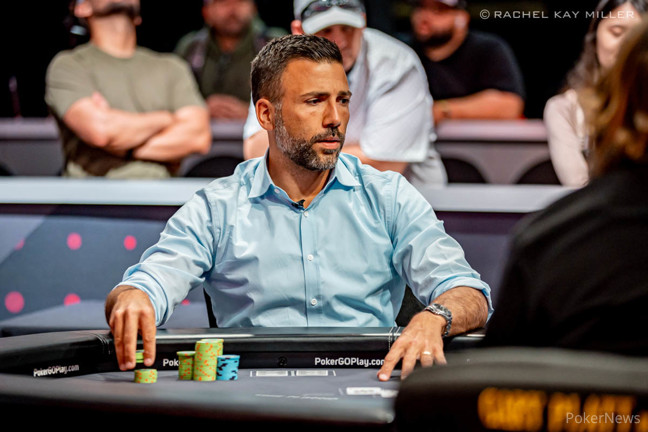 Hasdal completed, and Schulman called.
Andrew Hasdal: K♥K♦Q♠4♠10♥10♦
Nick Schulman: 5♣9♦8♣6♣7♦3♣Q♥
On fourth street, Hasdal bet and Schulman called.
Hasdal checked on fifth street, which saw Schulman bet and Hasdal raised, which saw Schulman re-raise, and Hasdal called only to see that Schulman made a straight and he was drawing thin.
The sixth street card gave two pair to Hasdal, and he was left drawing to a king or a ten on the river. Hasdal turned over the final card, and it was a 10♣ which saw Hasdal's rail erupt into cheers.
Schulman sighed in frustration as the chip counts got closer to even once again.
Nick Schulman completed with an ace up which saw Hasdal raise with a seven up, and Schulman bet once more, which Hasdal called.
Andrew Hasdal: 7♦4♠/7♥10♥J♦10♣/Q♠
Nick Schulman: A♣2♣/A♦10♠3♠J♠/9♦
Schulman bet on fourth street, and Hasdal called to put himself at risk. His runout gave him two pair, which was good to take down the pot.
Andrew Hasdal completed and Nick Schulman called.
Andrew Hasdal: A♦5♦/J♠A♠K♣5♣/K♥
Nick Schulman: 3♣4♠/5♥2♥K♥J♣/K♦
Hasdal bet on fourth street which Schulman called. The same action repeated on fifth street.
On sixth street Hasdal moved all in with aces up and Schulman called with his open ended straight draw.
Seventh street came as no help to Schulman and Hasdal survived the hand.
Andrew Hasdal: 6♦5♦/6♣J♣A♥2♥ — (folded on sixth street)
Nick Schulman: 10♦2♣/10♠8♣K♠8♥
Nick Schulman completed and Andrew Hasdal called.
Hasdal called bets from Schulman on fourth and fifth street, but opted to fold on sixth and was left with just 1.1 million in chips.