November Nine Final Table
Event Info
| | |
| --- | --- |
| Buy-in | $10,000 |
| Prize Pool | $27,220,989 |
| Players | 9 |
Level Info
| | |
| --- | --- |
| Level | 42 |
| Blinds | 1,000,000 / 2,000,000 |
| Ante | 300,000 |
Darvin Moon has the button. He gives Joe Cada a walk.
Joe Cada has the button. He raises to 2.5 million. Darvin Moon makes the call, and the flop comes
. Moon leads out with 3 million chips and earns himself the pot.
Darvin Moon has the button. He completes before Cada raises to 3.5 million. Moon makes the call.
The flop comes down
and Cada is first to act. He fires 3.5 million. Moon reaches for his chips and slides out a two-fisted raise to 10 million. Cada made the call.
The dealer brings in the chips from both players and then places the
on the felt for the turn. Cada checks over to Moon. Moon fires 10 million to the "oohs" and "ahhs" from the crowd. Cada calls rather quickly.
The river completes the board with the
and both players check. Moon shows
and Cada shows
. Moon takes the massive first pot.
Level:

39
Blinds:

500,000/1,000,000
Ante:

150,000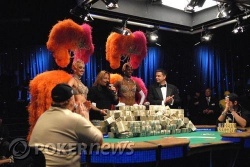 Motley Crue frontman and charitable poker player Vince Neil is the starter for tonight's showdown. He was escorted to the stage by two showgirls in full pink feathered regalia. After plugging his charity tournament, Neil sang, "Shuffle Up..... and Deeeeeal!"

With that, heads-up play has begun! A reminder if you're in the audience tonight: No flash photography. Jack Effel thanks you.
Tournament Director Jack Effel has run down the list of thanks, including the staff, the players, the sponsors, the dealers, the camera crews... even Sasquatch.

Effel asked the crowd how they would react if Darvin Moon won, and amid the cheers were a conspicuous number of boos. The same was asked about Cada's chances to win, and his sizable crowd of supporters went nuts.

Then Moon was introduced, and more boos rained welcomed him to the stage. Cada's entrance brought a few boos too, but the crowd seems to be on his side.

The two men shook hands in front of the table, and they have settled into the their seats. The tension is building.
"Ladies and Gentlemen!" came the booming voice of Commissioner Jeffrey Pollack. The crowd immediately burst into cheers.

"This is the night when we award the most coveted prize in poker."

Pollack is on the microphone talking about Saturday/Sunday's poker match. The seven who were eliminated are being introduced, after which Cada and Moon will be presented to the world.

These announcements will continue for several minutes. It's Tournament Director Jack Effel's turn to talk now. We'll be back with the 'Shuffle Up and Deal' shortly.
The two players, Joe Cada and Darvin Moon, have taken their seats. Both are stacking up their chips with some help from the tournament staff to speed things up. Moon begins with 58,850,000 while Cada has the chip lead with 135,950,000.

Some more notables appearing on stage are Barry Greenstein, Steve Dannenmann, Greg Raymer, and Joe Stapleton. Sixth-place finisher, Steve Begleiter, is also here with a front row seat.

It looks like things will be kicking off in a few minutes. Stay tuned!
The WSOP Main Event final table is set to begin shortly, scheduled for 10:00 p.m. local time. The money has been propped up on the table and staff members are running around like a bunch of busy worker ants trying to complete every last-minute task possible.

The theater itself is about a third of the way full. The bottom section is almost filled to capacity, while the upper section and balcony are waiting to be jammed up with all the spectators waiting in line outside. Said line is about a thousand people long, stringing all the way around the corner and down the long hallway of the Rio convention center.

Phil Hellmuth is meandering around the stage area with his iPhone taking a video, while Dennis Phillips is posing for photos with fans. Paul Darden, Mike Carol, Joe Sebok, and Cliff "JohnnyBax" Josephy are also on hand to find out who'll be the next world champion of poker.

We're anticipating a slightly-past-ten start, but keep it locked right here for the latest.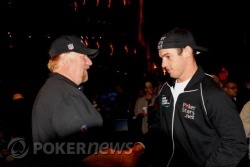 Here it is, ladies and gentlemen. The final battle for the 2009 World Series of Poker Main Event bracelet, the tallest podium on which a poker player can stand. At precisely 10:00pm-or-so Las Vegas time, Joe Cada and Darvin Moon will face each other one-on-one for a place in poker history as the World Champion of No-Limit Hold'em.
The two finalists were just part of a nine-man slugfest that unfolded on Saturday night and into Sunday morning's twilight. Moon was the big stack going in, but he couldn't hold his ground for long as the table reeled him back into the middle of the pack. But Moon recovered well and is still left standing after seven others have fallen by the wayside. Despite his persistence, the quiet amateur has received widespread criticism for the way he's played at this final table, with one hand against Steve Begleiter standing out as particularly peculiar.
Begs had three-bet Moon before the flop, and the two men saw the dealer spread out rags. Moon check-raised Begs to 15 million and Begleiter moved all in for 21 million total. With more than 44 million chips heaped in the middle of the table, Moon tanked and talked and laid his hand down, and the enormous pot Begleiter dragged vaulted him up ahead of Moon and into second place.
And then Moon committed the Cardinal Sin of poker. He knocked out Phil Ivey, and he did it with an astounding three-outer. Ivey was stepping softly through the first few levels of play as he took his time and felt out the table. He would finally find
and all-in action from Moon's inferior
, looking to pull in a very dangerous double up. The entire room was awestruck as the
appeared in the door, though, and Ivey was unable to hold Big Slick to stay alive. His exit in seventh place cleared a lot of spectators out of the theater and pitted those who stayed against the Maryland logger.
For Cada, it was quite a nerve-racking day of poker. He entered the day in the middle of the pack, but he would find his stack dwindling in the middle stages of the evening. Part of his slide was thanks to Moon and a big pot the two men played on hand #53. A pot of about 15 million was pushed to Moon when he made aces up, and Cada slipped to the short stack with under 7 million. A couple hours later, he would plummet all the way to 2.275 million after doubling up Jeff Shulman. But Cada battled back valiantly. A flip with Ivey doubled him back out of the danger zone, and he eventually worked back close to 11 million. Then the madness started.
Cada got the rest of his stack all in with
against Shulman's
. A three flopped and Cada fell into the arms of his railbirds with a miraculous double. Just a few hands later, Moon inexplicably four-bet Cada all in preflop with
, and Cada snap-called with
for another double up! Just as the sun was coming up over the desert, Cada earned his final double up of the day in a massive pot with Antoine Saout with just three players left. In the first hand back from a break, Cada got more than 35 million in with
. Saout instantly called with
, and he was looking to knock off Cada once and for all. But Cada would not fall. Another miraculous two-outer saved him from extinction and moved him into the chip lead.
Saout would fade out a few hands later, and it was Cada dealing the death blow with ace-king. Saout's pocket eights could not fade a river
, and Saout watched as Moon and Cada were mobbed by family, friends, and media.
Both men have had to endure several lifetimes worth of scrutiny and attention this week. For Cada, it seems that he's got the poker world rooting for him. Despite not putting up a good case for poker as a skill-based game, Cada has won over the fans with his humility and his relatable experiences.
But you also get the feeling that people would be rooting for whoever was playing against Darvin Moon. The unsponsored, self-employed laborer from the backcountry says he's done playing poker after this tournament. Most young grinders can't fathom turning down a fat sponsorship check, but Moon says he's not taking. In an interview with the Washington Post, he said, "These guys want me to sign for a year and say: 'You've gotta do this, you've gotta do that.' You become their" property. (Moon actually used a more forceful word that rhymes with "rich.")"
So here we are. It's the logger from Maryland against the self-admitted "B" student from Michigan for eight-and-a-half million dollars.
How do they feel about playing against each other? "They say he's some kind of specialist online," says Moon. "But I'm not online to watch." Cada thinks it's going to be a long match, and seems to be wary of his opponent's play. "Darvin mixes up his game a lot. He played really tight four months ago."
The two men could not be less similar to each other, but both have bested long odds and gotten unimaginably lucky to be here. Cada will be the betting favorite with the skill advantage and a two-to-one lead going in. But as Phil Ivey will tell you, luck has been an important ingredient at this final table. Sometime tonight or tomorrow morning, one of them will step into poker immortality as the 2009 Main Event Champion!