Sponsored by:

Event Info
| | |
| --- | --- |
| Prize Pool | $993,600 |
| Players | 736 |
Level Info
| | |
| --- | --- |
| Level | 31 |
| Limits | 120,000 / 240,000 |
| Ante | 0 |
Event #14: $1,500 H.O.R.S.E.
Day 3 Completed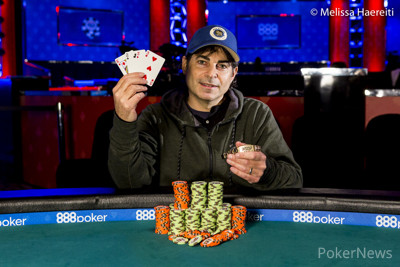 There were 18 players to start the day in Event #14: $1,500 H.O.R.S.E. and it was a star-studded field that returned. Multiple bracelet winners Max Pescatori, Brandon Shack-Harris, Ian Johns, Richard Ashby, James Richburg and David "Bakes" Baker were all looking to add another to their wrist. At the end of the day it was David Singer, another bracelet winner, who walked away with the bracelet and the $203,709 first place prize after a nearly six-hour heads-up battle.
Singer and Kevin LaMonica traded blows throughout the entire day, starting from the first level. It got to the point where LaMonica began calling Singer his nemesis because of how often they were involved, and how often Singer beat him in a pot. And Singer was able to survive mostly thanks to LaMonica. He doubled up through him multiple times, including once at the beginning of the final table where Singer made a straight and a low to scoop and survive. All of this culminated in one of the longest heads-up matches of the summer so far.
The day started fast and furious with players falling left and right very quickly. Jan Stein, Adam Crawford and Jon Seaman all dropped very quickly. Yuval Bronshtein and Richard Ashby hit the rail not long after, both eliminated by LaMonica during the razz round. "Razz has been my best friend this week," LaMonica said during heads up play, and it was during the Razz rounds that he built the most of his stack. It got to the point where LaMonica challenged Singer to play Razz against him. "Yeah, you play," he said. "But you don't gamble."
Ian Johns fell next, also to LaMonica in a hand of limit hold'em, where LaMonica's aces held up against Johns'
. LaMonica used his good fortune and monstrous chip stack to apply extreme pressure on his opponents. At the final table he was raising without looking at his cards, completing with tens, jacks, and kings up in Razz, calling with any four cards in Omaha. This relentless aggression would be the down fall of several players, including Shack-Harris and Pescatori.
It was Singer on the other side of the table who acted as the silent assassin. He spoke very little, but after doubling up through LaMonica he managed to take out four players. Between LaMonica and Singer, they eliminated every other player at the final table, almost as if they were destined to come to a showdown. Singer and LaMonica's heads-up match lasted for hours. LaMonica was so tired he asked to be comped a room, but he was told they couldn't accommodate him at the hotel. "I guess it's Circus Circus for me tonight," he said.
Eventually, Singer was able to wear down LaMonica, frustrating him with his slow, methodical, and tight play. LaMonica admitted to a friend going on break that Singer had put him on tilt and he was playing bad. Singer never let up though, he stayed steady with his play for the entire final table, and finally, in the final hand, took LaMonica down by making a boat in Omaha Hi-Lo.
"It was frustrating to play against that," Singer said about LaMonica's unorthodox playing style. "Every time he would do something like that I would have a big hand. Most of the time I played well, but I was getting unlucky in the big hands. It went back and forth for a while."
Singer's perseverance paid off. After being down to just one and a half big bets at one point he was able to come back and close out the tournament. "I was kind of frustrated," Singer said. "But I always think I have a chance to come back." And that he did. He was able to change the momentum of the heads up match and take home his second WSOP gold bracelet, after winning his first in 2008 in a $1,500 Pot-Limit Hold'em event.
Final Table Results
| Place | Player | Payout |
| --- | --- | --- |
| 1 | David Singer | $203,709 |
| 2 | Kevin LaMonica | $125,904 |
| 3 | Andrew Kelsall | $88,221 |
| 4 | Max Pescatori | $62,733 |
| 5 | Mike Coombs | $45,281 |
| 6 | David "Bakes" Baker | $33,184 |
| 7 | Kyle Loman | $24,696 |
| 8 | Esther Taylor | $18,669 |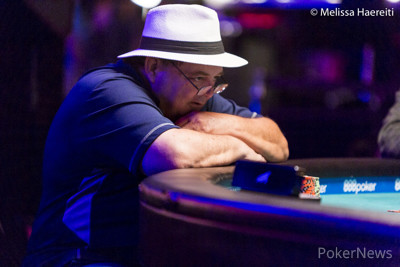 Omaha Hi-Lo
Kevin LaMonica called and David Singer checked his option. On the
flop, Singer checked. LaMonica bet, Singer raised and LaMonica moved all in. Singer called and their hands were turned up.
Singer:

LaMonica:
The board completed with the
and the
and that gave Singer a boat and the victory. LaMonica finshed as the runner up collecting $125,904 for his run.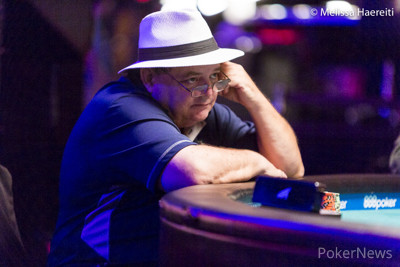 Omaha Hi-Lo
Kevin LaMonica raised and David Singer called. The two saw a flop of
and Singer checked to LaMonica who bet. Singer called.
The turn was the
and Singer checked again. LaMonica moved all in and Singer called.
LaMonica:

Singer:
The river was the
and LaMonica, thinking Singer had won tapped the table. "Good game," he said. "You win." But he was wrong. His pair of kings kept him in the lead and he scooped the pot, allowing him to double up.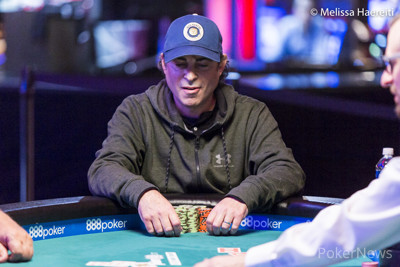 Limit Hold'em
David Singer raised, Kevin LaMonica re-raised and was called.
On the
flop LaMonica led out and was called.
On the
turn he led out again, was raised and called.
On the
river LaMonica check-called and was shown
for Singer's trip threes. LaMonica showed
and mucked.
Seven-Card Stud
LaMonica:
/

Singer:
/
LaMonica completed with the
and Singer called. On fourth, LaMonica bet, Singer raised, and LaMonica called. On fifth, LaMonica check-called a bet from Singer. On sixth, upon seeing Singers pair of threes, LaMonica folded before Singer could bet.
Razz
David Singer:
/
/

Kevin LaMonica:
/
/
On 5th street Singer bet, LaMonica raised and was called.
On 6th street Singer led out and was called.
On 7th street Singer check-called and mucked after he was shown LaMonica's
for a nine low.
Level: 31
Hold'em / O8 - 60,000/120,000 120,000/240,000
Razz/Stud/Stud 8 - 30,000 BI 30,000 120,000 120,000-240,000
Limit Hold'em
Kevin LaMonica raised on the button and David Singer defended.
Both players checked the
flop and Singer check-called the
turn.
On the
river Singer check-raised and was called. He showed
for a straight and beat LaMonica's
Omaha Hi-Lo
Singer raised on the button and LaMonica defended.
LaMonica proceeded to check-call all three streets on the
board and had
for jacks up. However Singer had
for aces up and won the pot.
Players are on a 15-minute break and will return shortly.