Monster Flip Sends Sammertino Out in 17th Place (€37,000)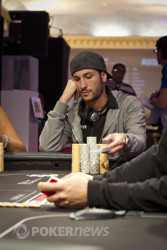 It's been a quick and painful fall from the top for Dario Sammartino. In the first hand back from the break, the two blinds were sitting out at Table 3, and Sammartino opened to 45,000 under the gun. Next door, Max Silver three-bet shoved with his big stack, and Sammartino called off nearly 1 million chips to put himself at risk! With a huge pot up for grabs, the cards were shown down:
Sammartino:

Silver:
Wow! It's good to be Max Silver today, and his deuces held strong on the board that ran
. A dejected Sammartino could hardly believe what just happened to him, and even Max Silver was almost speechless as he tried to describe the situation to the rail.
So then, Sammartino has gone from the chip lead to out in 17th place in the span of about two hours. He'll pocket €37,000, and it's now Silver who's in the lead for the gold. He's got at least 3.6 million now, and he's nearly lapped the field already.