Ukrainians Eat Brains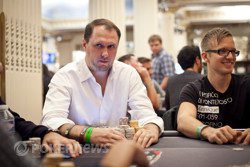 The exact preflop action was unknown, but Timothy Adams opened, Sergii Baranov called, then Lifeng Chen reraised on the button. Adams and Baranov both called to see the flop come out
. After Adams and Baranov checked, Chen fired 33,000. Adams folded, but Baranov had other things in mind and check-raised to 66,000 after a minute of thought. Chen called.
On the turn, the
paired the board. Baranov slid forward a tall stack of gray T5,000 chips for a bet of 105,000. Chen smeared his hand across his face in disgust, then folded.
"Fives good?" said Baranov as he turned over the
to rub the bluff into Chen. When Chen saw the fives, he shook his head and couldn't believe it.
"What's wrong, you have no balls?" Baranov continued as the table laughed.
A few seconds later, Baranov added, "You know what we do in Ukraine? We eat soup... with brains... brains of our enemies. Just ask Eugene [Katchalov], he's from Ukraine and he knows."
Player
Chips
Progress

Sergii Baranov

700,000

93,000

Lifeng Chen

270,000

-70,500