No Free Coaching From Benyamine

Level 9 : 500-1,000, 100 ante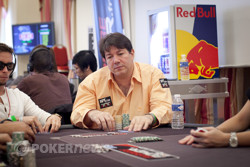 Open-faced Chinese Poker has taken the high stakes poker world by storm over the last couple of months. This variation of Chinese Poker requires some skill, and David Benyamine just offered to teach Ashton Griffin some basics. But it wasn't for free though.
"I just wanna win money in this tournament so I can blow it playing open-faced Chinese," Griffin said.
"Just play against me and I'll teach you. In two hours, I can teach you all I know and it's only gonna cost you like 12K," Benyamine said.
"How much a point are you playing, though?" Chino Rheem wondered.
"€100 I guess," Griffin added.
"No, we can even play €50," Benyamine said as they went back and forth. "You could even win, there's a lot of luck involved."
Griffin asked some strategic questions about the game, but Benyamine smiled and said, "Look, now he even wants help for free."
The atmosphere over on Table 19 seemed very relaxed, and maybe a they could even start a little Chinese Poker game on the side. The Main Event is down to 141 players and Griffin has to last till at least the final 48 in order to make some money in this event.