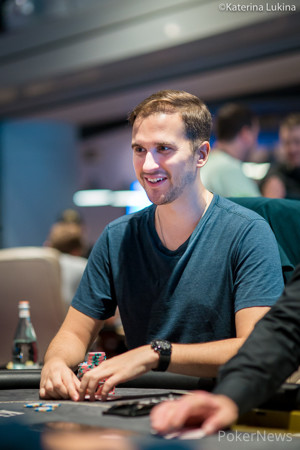 Seven Card Stud Hi-Lo 8 or Better
Julien Martini:
/
/

Besim Hot:
/
/
Julien Martini was all in on third street against Besim Hot and paired his four on fifth, while Hot had a flush draw on sixth. Martini peeled the
and remained with a pair of fours, however, Hot missed it all with the
as final card and they chopped as Hot had a low.
Julien Martini:
/
/

Alex Livingston:
/
fold
Daniel Negreanu:
/
/
Martini was then all in for 505,000 after completing and a raise by Alex Livingston and a call by Daniel Negreanu. On fourth, Livingston and Negreanu checked and Negreanu bet fifth to force out Livingston. Martini had a made straight but Negreanu had two pair and a straight flush draw.
A blank
for Martini was revealed first and Negreanu somehow missed everything with the
.
He recorded with his phone and said "three pair don't beat a straight."
Player
Chips
Progress

Besim Hot

13,200,000

600,000

Daniel Negreanu

3,600,000

-320,000

Alex Livingston

3,180,000

-720,000

Julien Martini

1,850,000

1,455,000