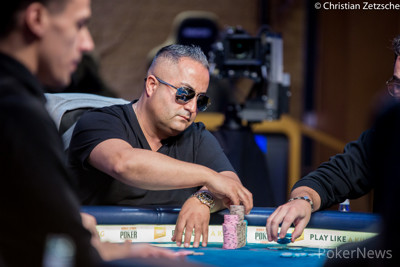 Besim Hot bet the
river with the
and forced a fold from Netanel Amedi, who had the better two pair with
.
Siamak Tooran raised to 2,300,000 with the
and Amedi called with the
in the cutoff, Thai Ha on the button called with
. The
flop triggered a bet of 3,100,000 by Tooran and Amedi called, while Ha let go.
The
followed on the turn and Tooran reached for a second barrel, making it 5,800,000 to go. Amedi made the call to create a pot of 25,300,000 and the
river blanked. Tooran bet 6,000,000 and showes his cards after Amedi had quickly folded.
"Well played," Besim Hot chimed in.
Player
Chips
Progress

Siamak Tooran

36,500,000

12,900,000

Netanel Amedi

20,700,000

-11,100,000

Orpen Kisacikoglu

20,700,000

-1,800,000

Thai Ha

17,500,000

-3,200,000

Besim Hot

15,100,000

1,600,000