Is Poker legal in New York (
ny

)? Online Poker Laws in New York Explained

New York
Live Poker is allowed
Live Poker is legal since 2013
Sports Betting is allowed
Sports Betting is legal since 2022
Online Poker is forbidden
Online Casino is forbidden
Can You Play Online Poker in New York?
New York is one of the biggest states in America in terms of its population and the amount of money that exists in the state, primarily from New York City. And all of that money has made it an attractive market for online gambling, especially online poker. The problem is that online poker is not yet legal in New York, though it could be in the near future thanks to attempts by the state to make a very key distinction related to its status.
In this guide to NY online poker, find out what is being done by lawmakers in an attempt to legalize online poker. Also, found out what the future of online poker in New York could look like along with other forms of legalized wagering in the Empire State.
History of Poker and Online Poker in New York
The history of poker in New York is one that dates back to the 19th century with underground poker clubs. From a legal standpoint, though, poker got started in New York in 1993, when the first tribal casino in the state was opened. Tribal casinos were the only place to play legal poker in New York until 2013, when commercial casinos were also made legal and began hosting poker games legally as well. Today, land-based poker games at locations such as Rivers Casino in Schenectady are about as big as legal poker gets in New York State.
The history of online poker in New York, meanwhile, has only been about attempts to legalize the industry. New York State lawmakers have been attempting to legalize online poker since 2014, but have never had any success in doing so. But with states like Pennsylvania and New Jersey having legal online poker nearby, and Michigan and West Virginia legalizing online poker as well, New York's lawmakers are hoping that there is still a future for legal NY online poker in their state.
As of 2023, New York state lawmakers are again considering legislation that would bring online poker to the Empire State, as well as legislation that would expand live poker beyond land-based casinos.
Summary of New York Gambling & Poker Laws
Online Poker/Gambling - Online poker and casino gaming are not legal in New York to this point.
Live Poker - Live poker can be played at casinos throughout New York
Casinos - There are 25 casinos throughout New York State
Sports Betting - Sports betting is legal as of 2022
Fantasy Sports - Daily fantasy sports is also legal in New York
Esports - Esports betting is not offered at New York State casinos yet
Other Gambling Options - Bettors can take part in a state lottery, bingo and horse racing betting throughout New York State
Online Poker in New York
Online poker is in an interesting place in New York, as a sense of urgency has to be entering the minds of lawmakers throughout the Empire State. Neighboring states in Pennsylvania and New Jersey have already legalized and launched online poker in their states. That means that New Yorkers can go to the West and South to play online poker legally, with the end result being tax revenue flowing into the coffers of those states rather than into those of New York.
With the state legislature making attempts to legalize online poker for the last seven years, it will be interesting to see if the recent legalization of online poker in other states can motivate the state government to move things forward. And if that doesn't get the job done, it will be interesting to see if the current coronavirus-impacted economy will be a more unfortunate motivator.
Is Online Poker Legal in New York?
Right now, online poker is not legal in New York. But there is an interesting attempt being made by members of the New York State legislature to change that, one that could change the way that online poker is viewed across the country if successful. Abill, S 18, has been proposed in New York that would classify online poker as a game of skill.
If the term "game of skill" sounds familiar, it is because that was the same term that was used during a series of successful attempts to legalize daily fantasy sports across the United States in 2016. Daily fantasy sports operators argued that their product should not be deemed an illegal form of gambling, because it was a game of skill rather than a game of chance. And that approach was wildly successful, as even states without DFS legalization laws on the books tend to allow contest entries in their states.
Should the game of skill argument be successful in New York's push to legalize NY online poker, it could set a precedent that other states could follow to make online poker legal around the United States. This argument would likely hang on how much the state government recognizes the skill of reading opponent tendencies and understanding card probabilities against how much they perceive the drawing of cards to be random over the course of a poker game.
Successful or not, it has to be encouraging to New Yorkers that state lawmakers are at least trying to make online poker legal by thinking outside of the box. That should give bettors in New York a sense that they may actually get to play online poker legally in the future, even if bill S 18 doesn't get signed into law.
Where Can I Play Online Poker In New York?
Right now, there is nowhere in New York that bettors can play online poker. Without online poker legislation being signed into law, there isn't going to be a place in the state of New York where online poker is allowed to exist. But there are places close to New York that do offer legal online poker, which could be the reason that state lawmakers are trying as hard as they are to get legislation passed.
Poker players in New York can travel to New Jersey and Pennsylvania to play online poker legally. As long as they are of legal gambling age in each of those states, and can verify their location on a computer or mobile device, all bettors need to do is cross into New Jersey or Pennsylvania to be able to start playing online poker immediately. With New York losing out on tax revenue to these states, it is no surprise that lawmakers are finally acting to get poker legislation passed in NY.
As a famous example how players in New York play online poker legally, New York poker player Ryan Depaulo won a World Series of Poker bracelet in the summer of 2020 by driving his car to a Whole Foods parking lot in New Jersey and playing from there. Depaulo won $159,563 by capturing the coveted poker prize.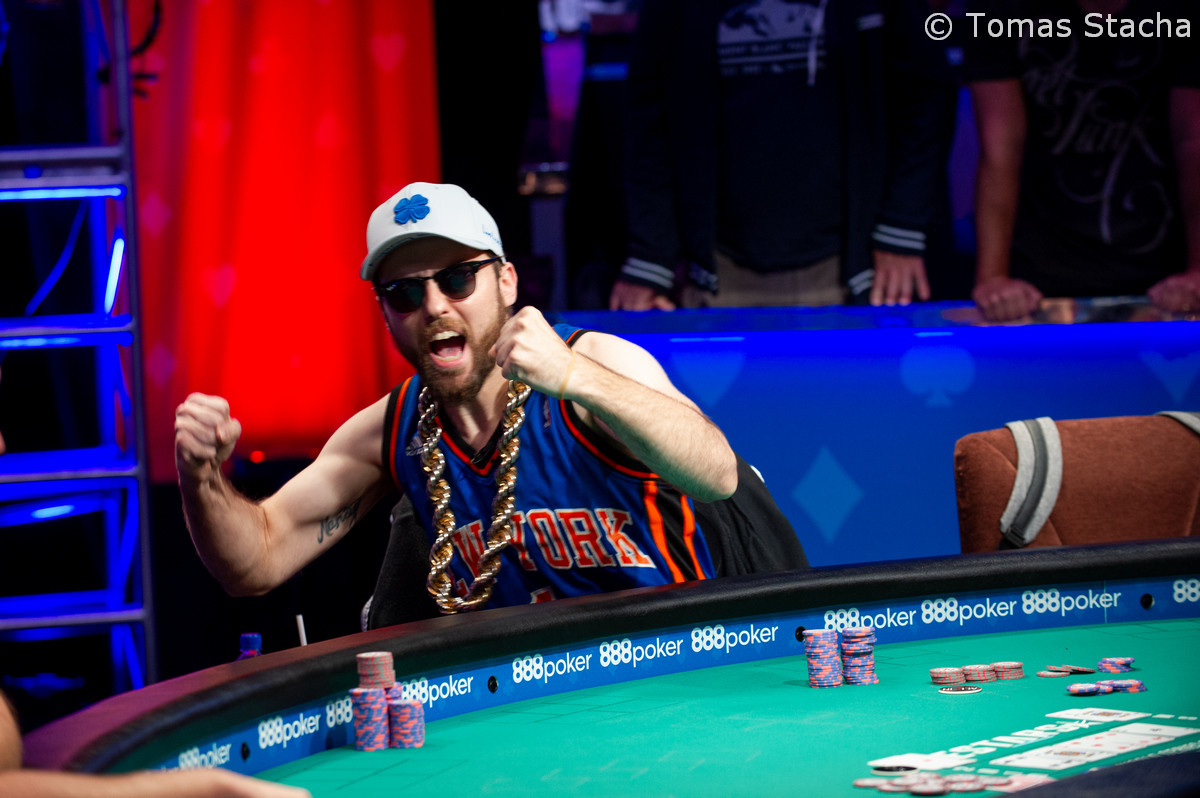 The concept of having to go to New Jersey or Pennsylvania to take part in legal online gambling is far from a new one for New Yorkers. Both New Jersey and Pennsylvania both offer legal online sports betting and legal online casino action as well. This means that bettors who want to wager on sports online or play casino games online could also head just past those state lines and start betting legally, which they cannot do online in New York.
This is especially useful for people who live near New York City, as the city was completely left out of the legalization of sports betting in New York. With only four upstate casinos allowed to offer sports gambling legally, bettors in New York City are able to get to New Jersey more conveniently than they can get to the closest upstate casino, which is Rivers Casino in Schenectady.
Where Does New York Offer Legal Online Gambling?
New York does not offer legal online poker, online casino gaming, or online sports betting, much to the chagrin of gamblers across the state. But there are a couple of ways that bettors can gamble online in New York. One such way is through betting on horse racing, as the New York Racing Association has its own website that bettors can use to legally wager on horse races across New York State and on races elsewhere in the world.
Bettors are also allowed to wager on daily fantasy sports contests in New York, as DFS was made legal after a legal battle between the state and daily fantasy sports operators in 2016. Many states do not have daily fantasy sports legislation on the books, but still allow DFS operators to accept entries from their states. New York has taken the extra step to fully legalize daily fantasy sports, after the major operators in the DFS industry came to an agreement with the state's Attorney General on licensing terms.
The legalization of daily fantasy sports betting in New York could be important to the future of online poker
legalization in New York. Daily fantasy sports operators used the same argument, that their product is a game of skill, to remain legal or permitted in a number of states. If lawmakers can make the same argument successfully about online poker in New York, it could change the gambling landscape in the entirety of the United States.
In January 2023, New York lawmakers introduced two bills addressing poker, one that would legalize online poker and another that would expand live poker beyond land-based casinos. Both bills are in the introductory phases and have yet to be voted on.
Will New York Regulate Legal Online Poker?
As of now, New York is not going to regulate legal online poker. But there are at least attempts being made to legalize online poker which, if successful, would lead to online poker operators being regulated by the state of New York. Unlike California online poker, there appears to at least be a chance that online poker comes to New York sometime soon, which could mean another source of tax revenue for a state that was hit especially hard by the COVID-19 pandemic.
US Poker Laws 2020 – New York FAQ
Is online poker legal in New York?
Online poker is not legal in New York at this time. But state lawmakers are attempting to change the definition of what poker is in order to make it legal in the future. The state legislature is seeing an attempt to designate poker as a game of skill, rather than a game of chance. If that is successful, poker would not be subject to the same restrictions that online casino gambling and online sports betting are in New York.
Is it legal to play online poker in the US?
It is legal to play online poker in some parts of the United States. But the legality of online poker in America depends on which state a bettor is in, not which country they are in. Each state is allowed to make its own laws pertaining to online poker and online gambling as a whole, with some states electing to legalize online poker and others keeping it illegal. New York is one of the states that has not yet legalized, while nearby New Jersey offers legal online poker action.
Is poker a game of skill?
There is certainly an argument to be made about poker being a game of skill. Unlike roulette or slots, poker requires bettors to understand probabilities and make the best possible decisions based off of those percentages. Instead of simply picking a color and spinning a wheel, poker requires a high level of analytical skill that most forms of wagering simply do not require. Thus, the attempt to legalize online poker as a game of skill is a shot worth taking for New York lawmakers.
Why does New Jersey have online poker but not New York?
The reason that New Jersey has online poker while New York does not is the fact that each state is free to make its own laws related to online poker. New Jersey is one of the most progressive gambling states in America, while New York has been less willing to aggressively legalize gambling activities. This is all based on the lawmakers that voters put into office, as some are more accepting of gambling activities than others.