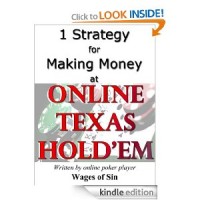 1 Strategy for Making Money at Online Poker [Kindle Edition]
Author: "Wages_Of_Sin"
Year: Dec 2012
Print house: Amazon Digital Services, Inc.
Buy
This book is for the online poker player tired of the constant grind of online poker. "Wages_Of_Sin" gives a fresh, easy strategy to follow that can create a monthly income stream from online poker for you, being able to do so without even having to deposit. That's right. A monthly income from no investment at all. This program is intended for the casual player wanting to make $50-$200/mo but can also work for the established online poker pro wanting to create an income with low variance.