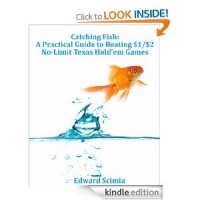 Catching Fish: A Practical Guide to Beating $1/$2 No-Limit Texas Hold'em Games [Kindle Edition]
Author: Edward Scimia
Year: Sep 2011
Print house: Amazon Digital Services, Inc.
Buy
The poker boom has created a generation of new players who aspire to become professional poker players. In response, dozens of books have been written that aim to show players how to play like the pros do, allowing them to compete against tough players at high stakes, or win in the increasingly difficult realm of online poker.
But not every player wants to become a high-stakes professional. For many players, the end goal is a much more modest one – they want to be winners in low-stakes games, and nothing more. They want to go to the casino, play in a $1/$2 game, and know that in the long run, they'll come out on top. In fact, it's probably true that there are many more players who fit into this category than there are aspiring poker pros. After all, plenty of players would be content to enjoy the casual, social nature of these low-stakes games – as long as they can turn a profit at the same time.