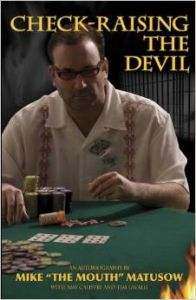 Check-Raising the Devil
Author: Mike Matusow, Amy Calistri, Dr. Tim Lavalli
Year: May 2009
Print house: Cardoza
Buy
Hang on tight as Mike "The Mouth" Matusow, poker player extraordinaire, takes you with him on a breathtaking, true-life roller coaster ride from his humble beginnings in a trailer park to a rock and roll lifestyle full of hot women, sex, wild drug-filled parties and million-dollar wins and losses. Yet behind the glamour and glory of his high-stakes poker career lurked the flip side: a person torn between two debilitating mental illnesses—bipolar disorder and ADHD. To dig himself out of depression and suicidal despair, Matusow turned to dangerous street drugs to self-medicate a problem he didn't understand, and spiraled deeper into the darker world of addiction, police narcotic stings, and jail time.
In this revealing and tumultuous autobiography, the combustible Matusow holds nothing back. You'll get a mouthful of the man behind the infamous Matusow Meltdowns seen on national TV.
Riveting, exhilarating, sexy, sometimes shocking and always fascinating, this voyeur's look into the world of high-stakes poker, mental illness, and ultimately, Matusow's inspiring redemption, will keep you glued to your seat until the very last page!