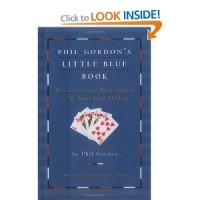 Phil Gordon's Little Blue Book: More Lessons and Hand Analysis in No Limit Texas Hold'em
Author: Phil Gordon and Chris Ferguson
Year: Oct 2006
Print house: Gallery Books
Buy
In Poker: The Real Deal and Phil Gordon's Little Green Book, Phil Gordon — a world-class player and teacher — shared the strategies, tips, and expertise he's gleaned during his phenomenally successful career. Now he shows players how to apply those theories to actual hands in order to make smart, confident decisions with every move.
Gordon walks readers through hands that he's encountered in cash games; early, middle, and late tournament play; Sit & Gos; satellites and supersatellites; and the final table of the World Series of Poker, revealing not only what plays he made but also why he made them. He relates what goes through a pro's mind in every situation, whether it's a timely bluff or a questionable call, and helps players calculate their own best moves in the most pressure-fueled of situations. In analyzing specific hands, Gordon also imparts important lessons in key poker skills such as calculating odds, shorthanded play, and discovering tells. And he discusses memorable plays — the good and the oh-so-bad — explaining why certain moves were made and, in many cases, how the hands should have been played differently.
Insightful, witty, and filled with real-life pro secrets, Phil Gordon's Little Blue Book is required reading for every player looking to make a profit and raise his game to the next level.
Check out our review on Gordon's other book, Phil Gordon's Little Gold Book, by clicking here.