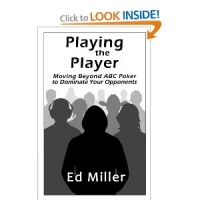 Playing The Player: Moving Beyond ABC Poker To Dominate Your Opponents
Author: Ed Miller
Year: May 2012
Print house: CreateSpace Independent Publishing Platform
Buy
Ask any poker player with a little bit of experience, and they'll tell you poker is a game of people, not of cards. They're absolutely right, but nine times out of ten, these same players get the people part all wrong. They look for the wrong things. They make the wrong adjustments. And they end up paying for it.
In Playing the Player, best-selling author Ed Miller shows you how to make the right reads and the devastating adjustments that top pros use to crush their opponents. Playing The Player will have you thinking about and playing poker in a whole new way.
Miller is the best-selling author of seven books on poker strategy, having sold over a quarter million copies. His books have helped launch the careers of hundreds of professional players.