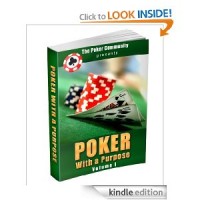 Poker With a Purpose [Kindle Edition]
Author: Annie Duke, David Sands, Tony Dunst, Mike McDonald and more
Year: Jan 2012
Print house: Amazon Digital Services, Inc.
Buy
Some of the best poker players in the world discuss the most important aspects of No-Limit Holdem and what strategies they use to beat the game. The seven topics each have three different professionals giving their perspective leaving the reader the ability to choose which they think is best. Some of the topics include Cash Games vs Tournaments, Board Textures, Three-betting & more!
The authors include: Alex Kim Andre Akkari, Annie Duke, Dan Colpoys, David Sands, Erika Moutinho, Grayson Ramage, Greg Shevach, Isaac Baron, Jared Vengrin, Jason Koon, Jason Young, John Tabatabai, Mark Herm, Matt Vengrin, Mike McDonald, Perry Friedman, Sorel Mizzi, Stephen Chidwick, Steve Gross, Tom Marchese, and Tony Dunst.