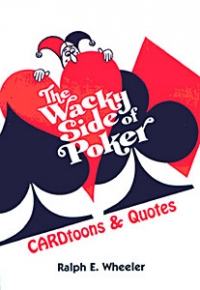 Take a Walk on the Wacky Side!
Perfect for holiday gifting! 88 Very Funny Poker CARDtoons. 220 Wise & Witty Poker Quotes.
Examples of quotes:
"Omaha high-low was invented by a sadist and is played by masochists." — Shane Smith "Marriages may come and go, but the game must go on." — Felix Ungar, The Odd Couple "Put yourself in their shoes before you decide on the best way to take their shirts." — David Sklansky If you know poker, you know people; and if you know people, you got the whole dang world lined up in your sights. — Brett Maverick "'Limp' is a five-letter word: R-A-I-S-E!" — Barbara Enright.